What Is DrChrono?
DrChrono's all-in-one cloud-based mobile EHR comes with speech-to-text and custom templates/forms to chart effectively. With DrChrono's practice management and medical billing software you get a live claims feed for billing and payment processing, HCFA/Superbill generation, and e-fax integration. Real-time eligibility checks help you check patients' information, and you can send custom appointment reminders through email, SMS, or phone. For students please visit DrChrono University.
Who Uses DrChrono?
DrChrono serves small single provider practices and large medical group practices with multiple specialty customizations.
Where can DrChrono be deployed?
Cloud-based
On-premise
---
About the vendor
DrChrono
Located in Sunnyvale, US
Founded in 2009
Countries available
United States
Languages
English, Spanish
About the vendor
DrChrono
Located in Sunnyvale, US
Founded in 2009
Countries available
United States
Languages
English, Spanish
DrChrono videos and images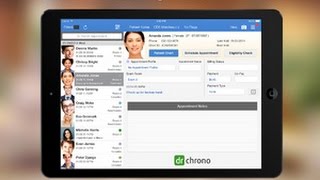 Compare DrChrono with similar products
Features of DrChrono
Alerts/Notifications
Appointment Management
Appointment Scheduling Software
Billing & Invoicing
Charting
Claims Management Software
Claims Scrubbing
Client Management
Code & Charge Entry
Coding Assistance
Compliance Tracking
Confirmation/Reminders
Decision Support Software
Drug Reference Database
E-Prescribing
EMR/EHR
EPCS Compliant
Electronic Claims
Electronic Prior Authorization
Exercise Library
Faculty/Staff Management
For Chiropractors
For Medical Purposes
For Medical Spas
For Mental/Behavioral Health Practices
For Optometrists
For Physical Therapy
Formulary Management
HIPAA Compliant
Healthcare Compliance
Initial Assessments
Insurance Eligibility Verification
Insurance Management
Inventory Management Software
Invoice History
Live Chat Software
Medical Billing Software
Medication Alerts/Warnings
Medication History
Multi-Physician
Multi-Provider Practice
ONC-ATCB Certified
One-to-One Messaging
Order Entry Software
Outcome Assessment Tools
Patient Intake
Patient Portal Software
Patient Records Management
Patient Scheduling
Physician Management
Physician Scheduling
Practice Management
Prescription Renewal
Progress Notes
Recurring Appointments
Remittance Advice
Remote Treatment Plans
SOAP notes
Self Service Portal
Treatment Planning
Video Conferencing Software
Virtual Waiting Room
Dr Baden
Owner / Primary Chiropractic Physician at Fit 4 Life Chiropractic in US
Verified LinkedIn User
Used the Software for: 2+ years
Save thousands in upfront expenses.
Comments: I saved thousands of dollars in upfront expenses from other EHR companies and then pay update fees every year.
Pros:
They keep current payers at the monthly price they started at when tasing the priced for new customers. I have been with and using DrChrono for about 6 years now. They are always improving. It is a nice system that can be used multi-disciplinary. I am a chiropractor an I used it with a a medical Nurse Practitioner. What initially appealed to me is there was no multi thousand dollar up front software like a lot of other EHR companies want to charge you, along with yearly upgrade fees. None of that here so you start off saving thousands.
Cons:
The Price keeps raising every year, for new accounts. Customer service sinks and there is no direct phone number to call to have the issue solved right away, you have to email them and wait for them to get back to you.
Dr John
Non-Force Chiropractor in US
Hospital & Health Care, Self Employed
Used the Software for: 2+ years
Source: SoftwareAdvice
The ultimate software partner for your Mac computer office!
Comments: Patients save me time and charting by communicating through the onpatient portal.
I can run reports and have an immediate idea of what symptoms and frequency my patients are presenting and develop educational materials that support those diagnosis.
I stay on top of my day by way of daily schedule emailed to me every morning.
Pros:
Seamless integration with my MacBook, iMac and iPhone. Fast, knowledgeable support. The unlimited ability to customize for my sole practitioner non-force chiropractic practice. Easy to understand video tutorials which answer most questions without having to contact support. Robust, integrated systems, such as the ability to provide credit card processing. Knowing that drchrono is a leader and partner with Apple Health.
Cons:
I get frustrated when I am on a learning curve with a new part of the software. But that's my problem!
Medical Devices, Self Employed
Used the Software for: 2+ years
Source: SoftwareAdvice
Excellent and cost effective
Pros:
E prescribing and charting are easy to use
Cons:
Customer support . I cannot improve because there is no technical support
DrChrono Response
3 weeks ago
Hi Alexis - thank you so much for your feedback! We are sorry to hear you feel you have not received adequate support. We'd be happy to get you connected with the right person if you still need help - please either submit a support ticket here: https://support.drchrono.com/hc/en-us/requests/new or connect with your Account Manager. You can also reply directly to this message for further assistance. Thank you for being a DrChrono user!
Health, Wellness & Fitness, 2-10 Employees
Used the Software for: 2+ years
Source: SoftwareAdvice
Worst EHR. SCAM. Your patients data will be taken into hostage
Comments: Stay away from them. Dr. Chrono is Worst possible EHR in many ways. Below is actual part of Email they sent to us regarding data transfer. Hi Dr.
The last invoice to be paid to finish the contract came out on Aug. 7, you won't be charged going forward.
Here are the options for getting your data out of DrChrono:
OPTION 1
Maintain read-only access to your existing DrChrono account. This will allow you to still log in any time, any where and access your patient information. This option only requires you to sign an annual read-only access agreement with DrChrono for a small fee of $50 per month. This can be paid out monthly or you can prepay and not have to worry about the bill for another year.
OPTION 2
Use DrChrono's manual export features. With this option, you are able to export a zip C-CDA file of your patient list. You can also export your patient demographics as a .csv file. For clinical notes and uploaded documents, you will need to export individually from within each patient's file. There is no fee for this option but you will only have your 30 day notice window to complete your own export. Here are some support articles that provide more information about the manual export features:
Pros:
User interface loos pretty and enticing. That is all. Nothing else.
Cons:
Extremely buggy and slow. ICD and CPT codes does not accept synonyms. It only accepts exact wording of used in original CPT and ICD-10 code. I had to use google all the time to find appropriate codes to put in the charts. Takes double the time. Billing is horrendous. No way to track if payment is received and processed. When more than thousands of payments are hanging, it becomes impossible to track anymore. Finally I had to decide to stop using and give up tracking the account receivable and give up insurance payment all together for many months. It was worth to give up months of work than further loosing and not being able to collect anymore. Lessons learned in hard way. Finally, when I moved to different EHR after using Dr.Chrono for 4 years, they refused to transfer patient data. Instead, they told us to manually open and download individual items from patient charts or pay them $50 per month for read only version. The new EHR company contacted them to work through, they refused all the cooperation. One year later, I still did not receive any patient data. I complained to Better Business Bureau. I am taking legal action against them now. They will take patients information as hostage. STAY AWAY. These are scammers.
Mental Health Care, 2-10 Employees
Used the Software for: 1-5 months
Source: SoftwareAdvice
Alternatives Considered:
Happy with our decision
Comments: Overall, Dr. Chrono has been a great value for the price. We are very pleased with the decision.
Pros:
provider documentation. streamlined, looks good, customizable.
Cons:
Would like it if my medical assistant could pin prescriptions ahead of time for me (the provider) to sign. That would free up time.