What Is ProWorkflow?
ProWorkflow is an industry-leading comprehensive project management tool for teams of 5 to 5000. 17 years of experience and trusted for over 3 million projects, we understand small details through to big data. Track Gantt chart tasks, Kanban boards, time, documents, communications, quotes and invoices. Our powerful API and customizable features let you easily tailor ProWorkflow. World-class customer support & free on-boarding makes the decision to join easy.
Who Uses ProWorkflow?
From small start-ups to huge enterprises - ProWorkflow is the best tool to keep track of progress and people. Customizable & adaptable to all of your business needs.
Where can ProWorkflow be deployed?
Cloud-based
On-premise
---
About the vendor
ProActive Software
Located in Hamilton, New Zealand
Founded in 2002
ProWorkflow support
Phone Support
24/7 (Live rep)
Chat
About the vendor
ProActive Software
Located in Hamilton, New Zealand
Founded in 2002
ProWorkflow support
Phone Support
24/7 (Live rep)
Chat
ProWorkflow videos and images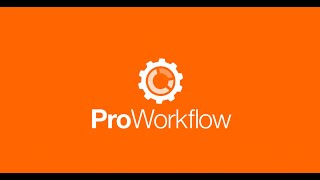 Compare ProWorkflow with similar products
Features of ProWorkflow
Access Controls/Permissions
Activity Dashboard
Activity Tracking
Agile Methodologies
Alerts/Notifications
Approval Process Control
Approval Workflow
Assignment Management
Audit Trail
Backlog Management
Bar Chart
Billable & Non-Billable Hours
Billing & Invoicing
Brainstorming
Budget Management
Budgeting/Forecasting
Business Process Automation
CRM Software
Calendar Management
Capacity Management
Channel Management Software
Client Management
Client Portal
Collaboration Tools
Color Codes/Icons
Commenting/Notes
Communication Management
Contact Database
Contact Management Software
Content Management System (CMS) Software
Cost-to-Completion Tracking
Create Subtasks
Customizable Dashboard
Customizable Templates
Dashboard Software
Data Connectors
Data Visualization Software
Dependency Tracking
Document Management Software
Drag & Drop
Email-to-Task Conversion
Employee Management
Event Triggered Actions
File Management
File Sharing Software
Financial Management Software
For IT Project Management
Forecasting
Forms Management
Gantt/Timeline View
Goal Setting / Tracking
Graphical Workflow Editor
Guest Access
Idea Management Software
Import Tasks
Issue Management
KPI Monitoring
Kanban Board
Live Chat Software
Marketing Calendar
Meeting Management
Messaging
Milestone Tracking
Mobile Access
Multi-Campaign
No-Code
Online Time Tracking Software
Overtime Calculation
Percent-Complete Tracking
Performance Metrics
Personalization and Behavioral Targeting Software
Prioritization
Process Modeling & Designing
Project Management Software
Project Planning Software
Project Planning/Scheduling
Project Scheduling
Project Tracking Software
Real Time Editing
Real Time Notifications
Recurring Tasks
Release Planning
Remote Access/Control
Remote Support Software
Reporting & Statistics
Reporting/Analytics
Reporting/Project Tracking
Requirements Management Software
Resource Management Software
Resource Scheduling
Roadmapping
Search/Filter
Single Page View
Spend Management Software
Sprint Planning
Status Tracking
Surveys & Feedback
Task Editing/Updating
Task Management Software
Task Progress Tracking
Task Scheduling
Task Tagging
Team Management Software
Template Management
Templates
Third Party Integrations
Time & Expense Tracking
Time Tracking Software
Timesheet Management
Utilization Reporting
Vendor Management Software
Video Chat
Video Conferencing Software
Visual Workflow Management
Visualization
Widgets
Workflow Configuration
Workflow Management Software
Jessica Rose
Managing Director in South Africa
Verified LinkedIn User
Marketing & Advertising, 2-10 Employees
Used the Software for: 2+ years
Bring on tick Friday - Love ProWorkFlow
Comments: Our team are able to collaborate more. We have a greater transparency with clients & are overall much productive.
Pros:
Our team are able to collaborate & we are able to manage both projects (development/design) as well as monthly recurring tasks (agency social media posting/community management). ProWorkflow weekly workload app is a life saver & the team proactively have a "tick Friday" were we go home early if all boards are cleared and completed. Our business is able to see where the profitability lies within our services & where we can make improvements. Highly recommend this tool due to its ease of use & flexibility.
Cons:
For recurring tasks / monthly repetitive services of an agency you cannot just duplicate a current "project" and rename it. This would be an awesome time saving feature to have.
Hayley
Project Coordinator in US
Graphic Design Software, 11-50 Employees
Used the Software for: 2+ years
QA Graphics-Pro Work Flow Review
Comments: Overall Pro Work Flow has been a great experience. Their online chat and help service always helps when I'm stuck trying to update something or do something specific in a report. My customers have found it very easy to use as well which is a huge plus for me as we deal with hundreds of clients a month and multiple clients per project. The ability for me to be the administrator and to see everything for messaging, time reporting, time auditing, etc has also been a great tool for our business as well for my team.
Pros:
I like the ease of functionality on this software. I love being able to toggle between my work and my users and the ability to categorize projects, tasks, etc. The archive function is amazing and very easy to use. The ability to communicate between customers and my staff with the software is very smooth as well. Also, the ability of my customers to respond directly in their email inbox was a game changer. In the world where everyone has a million sites and passwords to remember, they don't necessarily have to remember this one in order to do business with us. My [SENSITIVE CONTENT HIDDEN] and I also really like the reporting that is available for staff time reporting, monthly project updates, etc.
Cons:
I feel like the app could use work. Honestly I don't use it and my clients tend not to use it as well. It's a bit hard to navigate to specific projects and the view is a lot different than the website so it's hard to communicate with them where they need to go.
Carmen
Office Manager in Australia
Environmental Services, 2-10 Employees
Used the Software for: 1+ year
Good start but still a lot to be implemented
Comments: Whilst PWF has potential and I'm sure the intention to rectify and further develop the software is there, in it's current format it does not meet our business needs, requiring us to use external software sitting outside of PWF's functionality. It appears to be set up for a niche market and would do well to expand its capabilities to provide fuller functionality for all clients.
Pros:
I've been using PWF for a year now and see there is potential for this to be a convenient, easy to use tool once development improvements have been implemented. The support staff are friendly and provide assistance where possible. The software enables us to pay per user and grants multiple users to access the platform with individually allocated access rights, allowing us to set security levels pending the role of the user and adjust our monthly payments pending the number of consultants we currently have on board. You are able to live track time which is helpful for our consultants in allocating to billable projects. Review of time entered and staff workload is also a useful function.
Cons:
I feel this software is still in its developmental stage and has a lot of improvements to be implemented. For example, integration with MYOB is poor and non usable, invoicing fields need expanding (ie choice of PO or street address, ABN field for recipient, etc), templates and emailing tools are very basic and limited, contact listings are restrictive and missing vital fields (ie ABN, PO Box, etc) or requiring double handling (ie single contacts need to be connected to a non existent company, for example where no company is applicable you have to create fake one to connect them contact to), reports need to have more functionality and retrospective time reports come up with errors in date ranges making data inaccurate, add/edit tasks need further options such as sort functions, window resizing/positioning needs to be added, pro bono projects cannot be marked as non billable unless you tick them off as "invoiced" (which is incorrect and misleading). These are just a few of the issues we have recently been struggling with.
Design, 2-10 Employees
Used the Software for: 2+ years
Alternatives Considered:
I've tried everything else... ProWorkflow is the cream of the crop
Comments: I've been a customer for many years. I feel like a value to the company with the communication I get from you guys and support. I love how you take feedback and actually make your product better based on our suggestions. It makes me feel like I'm a part of building this great software.
Pros:
The customization is unmatched. You can really make this exactly what you need it to be. I have a very creative and visual brain but need to stay organized. This allows me to create what works best for my brain and has changed the game for onboarding clients, running projects and much more. I now come across like a type-a CEO.
Cons:
I wish there was more automation. That would be really great. I had tried out dubsado for this, but it is a really crap product in comparison. It automates and love the templates they had, but when it came to project management, there's no comparison.
Sarah
Creative Director in New Zealand
Graphic Design Software, 2-10 Employees
Used the Software for: 1+ year
Alternatives Considered:
ProWorkflow is the best task management tool
Pros:
Easy to use Easy to customise Easy to track time and projects Connects seamlessly with xero I love it, I tested many demos, it has an attractive interface, accuracy, great support - this task management system gets a 9.8/10 from me :)
Cons:
Sadly there is no pause button on the timer When invoices transfer to xero they keep the hourly rate - so I can't activate auto invoice reminder in xero otherwise i have to remove that rate off each task (no time for that) Large scale project management and team communication tools could have improvements made