What Is Buildertrend?
Buildertrend is the No. 1, cloud-based construction project management software for homebuilders, remodelers and specialty contractors. Since 2006, we have empowered the construction industry with a better way to build. More than 1 million users across the globe have chosen Buildertrend as their platform for real-time collaboration. Our software helps construction professionals complete projects while reducing delays, eliminating communication errors and increasing customer satisfaction.
Who Uses Buildertrend?
Buildertrend is ideal for homebuilders, remodelers, specialty contractors and general contractors.
Where can Buildertrend be deployed?
Cloud-based
On-premise
---
About the vendor
Buildertrend
Located in Omaha, US
Founded in 2006
Countries available
United States
About the vendor
Buildertrend
Located in Omaha, US
Founded in 2006
Countries available
United States
Buildertrend videos and images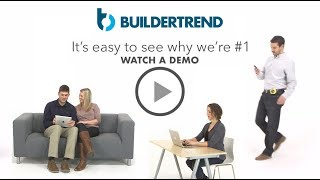 Compare Buildertrend with similar products
Features of Buildertrend
Accounting Integration
Alerts/Notifications
Appointment Scheduling Software
Bid Management
Billing & Invoicing
Budget Management
Budget Tracking/Job Costing
CRM Software
Calendar Management
Change Order Management
Client Portal
Client Tracking
Collaboration Tools
Contact Management Software
Contract/License Management
Contractor Management Software
Cost Estimating
Cost-to-Completion Tracking
Customer Database
Customer Management
Customizable Templates
Dispatch Management
Document Management Software
Electronic Signature
Estimating
Expense Tracking
File Sharing Software
For AEC Industry
Gantt/Timeline View
Inspection Management
Job Costing Software
Job Management
Job Scheduling
Lead Management Software
Mobile Access
Mobile App
Percent-Complete Tracking
Permit Management
Photo Capture
Portfolio Management
Progress Reports
Project Accounting Software
Project Billing
Project Management Software
Project Planning/Scheduling
Project Scheduling
Project Tracking Software
Proposal Generation
Purchase Order Management
Quotes/Estimates
RFI & Submittals
Real-time Updates
Reporting/Project Tracking
Residential
Resource Management Software
Sales Pipeline Management
Scheduling Software
Staff Calendar
Status Tracking
Subcontractor Management
Task Management Software
Task Scheduling
Time & Expense Tracking
Time Tracking Software
Timesheet Management
What-if Analysis
Work Order Management
Buildertrend Alternatives
Shahidul
Project Management Expert in Bangladesh
Verified LinkedIn User
Construction, 201-500 Employees
Used the Software for: 1+ year
Love everything other than the pricing
Comments: When I started working with a team from Signature Building Systems, I first "met" Buildertrend, since then it's been a fun ride. I did change a lot for the team since then (which is kind of what my thing), and probably upped their productivity by a lot.
Pros:
More than their financial and sales solutions, unique features, I loved how much resources they had for someone new! Though I have used tons of PMS over the years, there's always something new with them, all of them. So, the resources helped me to run through them, fast.
Cons:
They are excellent! Don't get me wrong. But god, they are pricey! I have this thing for most PMS though! I think they charge a bit too much.
Richard
Project Manager in UK
Construction, 11-50 Employees
Used the Software for: 2+ years
Alternatives Considered:
Streamlines so many parts of our business
Comments: Very good. If youre going to integrate BT make sure you take it on a section at a time. Dont try and open up too many sections to your team These guys have given a lot of thought to the software and it forms an amazing backbone for any client facing construction business. We couldnt last the day without it.
Pros:
This software is outstanding in many different areas We initially purchased it initially to manage our clients selections for new homes and it quickly got integrated elsewhere to the point its the backbone of many of our processes We use this now to manage client change order (it pays for itself on this alone every month) selections, materials ordering from site, daily logs, H&S management, RFI's for the design team and photo storage and programming to name but a few We couldn't go back to the old ways of doing many of these There are a lot of different features and you'll certainly find many that'll make it worth your while to use Oh and the customer support is ace
Cons:
Overall roll out is great and intuitive but you do need to comit to integrating BT to your business and this takes time and effort. THis is a software that gives back 10 fold what you put in, but it does need your comittment.
Buildertrend Response
2 years ago
Richard, thank you so much for your honest review and feedback! We appreciate you sharing how Buildertrend works for Appletree Estates, and we feel so lucky to have you as customers.
Construction, 2-10 Employees
Used the Software for: 2+ years
Source: SoftwareAdvice
Good Value
Comments: While in general we've been happy but our frustration points have pushed us to look at others. There may be other programs that work like BuilderTrend but we haven't found anything that gives us what we're looking for. While BT has made strides recently we would like to see more industry standard issues resolved on the back end. For the money though it is reasonable.
Pros:
Documentation preservation. Job organization
Cons:
Accounting does not follow basic industry standards. We've have had invoices rejected because there is basic information missing like issue and due date. We don't care about print date. Is that industry standard?
Construction, 2-10 Employees
Used the Software for: 2+ years
Source: SoftwareAdvice
Estimating Application Bug
Comments: No sense of urgency to fix a critical application "bug."
Pros:
the use of daily logs to include all types of media ... our clients appreciate the updated. Job scheduling.
Cons:
BT has yet to fix the bug in their estimating module making it impossible to update an estimate. No resolution target date.
Kristi
Designer/manager/sales in US
Construction, 2-10 Employees
Used the Software for: 2+ years
Essential (can't function without it)
Pros:
Lots of help for new comers/employees. Listens to feedback on how to masks software better. Reminders, schedule and to-dos make employee productivity so much higher. Lead management is all in the same software. Financial reports are convienent. Track your POS easily. So much more!
Cons:
Nothing. This software makes running and working in a complex industry so much more manageable.