What Is Salesforce Sales Cloud?
Drive growth with Sales Cloud 360, the best-in-class sales solution that has helped power the world's best sales teams on the world's #1 CRM platform. Firms of all sizes, industries, and geographies, realize value faster with Sales Cloud 360. Increase rep productivity with data driven selling by quickly deploying industry-specific apps and best practice processes. You also get access to 150,000+ sales organizations and a 2 million user-strong community that are passionate about sales growth.
Who Uses Salesforce Sales Cloud?
With Salesforce's multi-tenant cloud computing model we can serve the needs of companies of all sizes, in any industry. Our customers benefit from a shared main framework, while maintaining privacy.
Where can Salesforce Sales Cloud be deployed?
Cloud, SaaS, Web-based, Android (Mobile), iPhone (Mobile), iPad (Mobile)
About the vendor
by Salesforce
Located in San Francisco, US
Founded in 2003
Phone Support
Chat
About the vendor
by Salesforce
Located in San Francisco, US
Founded in 2003
Phone Support
Chat
Salesforce Sales Cloud videos and images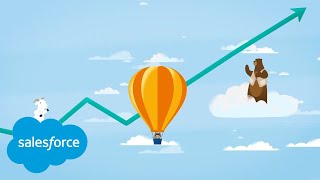 Compare Salesforce Sales Cloud with similar products
Starting price
N/A
$50.00/month
$50.00/month
$20.00/month
Salesforce Sales Cloud Features
Jason E.
Sales executive in Cameroon
Verified LinkedIn User
Computer Software, 2-10 Employees
Used the Software for: 1+ year
2022 Salesforce Sales Cloud(My opinion)
Comments: helped improve on sales performance.
Pros:
Salesforce sales cloud is probably not the only best performing salesforce tool out there, however, it has high and effective features which in my close to 2 years of experience working with it has brought a lot of sales boosts to my team. It's unique for its great features although, we made a lot of losses in our first experience with the software( due to unfamiliarity); but as they say" practice makes perfect", we were able to surpass all and gain absolute management on our sales representatives. There was nothing more enthusiastic than we are able to have complete tracking of our sales performance, connecting with our clients securely.
Cons:
It's sad to know that 2-factor authentification works by default(automatically) on my account whereas, with other software, it's an option. This isn't bad, however, it is sometimes frustrating going through all that if I have to jump to the tool speedily.
Steve B.
IT Manager in US
Consumer Goods, 11-50 Employees
Used the Software for: 2+ years
Great help to all our sales reps
Comments: Our sales reps have been much more efficient using this software. It really helps them when they hit the road to make sales calls.
Pros:
The CRM software is very easy to use for all our Sales reps not dependent on their tech skill level. We are able to use the software for customer management and that includes emails, tasks, mapping, and route generation. Geopointe is a very good solution to add that give the ability to create heat maps and generate routes for today and for future travel. The software has the ability to track all contacts with the customer, email, phone call, etc.
Cons:
We sync this software with our ERP software, NetSuite. The sync process with Celigo works well but the time for the sync could be faster. The dashboards are great but sometimes getting the exact data is difficult if that data is synced with another ERP like we do with NetSuite.
Machinery, 51-200 Employees
Used the Software for: 2+ years
Alternatives Considered:
Big Name Big Deal
Comments: I once was a raving salesforce fan. That ship sailed. I am no longer much of a fan. The product has gotten too complicated for smaller business units. They don't need all the features. They don't need the price. The monthly cost is one thing. The set up and integration costs are huge. Can't bring myself to spend the money for that when other options are more than viable and more than competitively priced.
Pros:
I've been a salesforce administrator 3 times. At one of the companies we integrated nearly everything into salesforce. The joke was the janitor couldn't take out the trash without a salesforce entry. It does some things well. But, over the years it has become too bloated. Small companies just don't need all the functionality and costs.
Cons:
The cost has gotten too high. There are competitors on the market that do it very well for a lot less. Programming used to be pretty easy. That has gotten more difficult over the years. To the point where I am no longer a fan. I am a firm believer in CRM. I built my first CRM from scratch in 1988. There was no shrink wrap back then. But the program has gotten bloated and suffers from mission creep.
Utkarsh S.
Software Developer in India
Verified LinkedIn User
Computer Software, 10,000+ Employees
Used the Software for: 2+ years
Alternatives Considered:
One shot solution for Business to maintain Sales and Leads
Comments: Experience with salesforce is amazing as it is a place where you get to implement all the out of box functionalities and provide a great solution to the business. The automation tool have made most of the task very easy and in a organized way.
Lightning Components are developed which can display and capture the data from the user which is great .
Most of the things can be done using standard functionalities and if not then we can use apex classes to implement business logic and using that there is no limits in salesforce you can do whatever implementation you can think of .
Pros:
Salesforce service cloud a complete package of solution to the business or industry which has there product and sales , Leads , Campaigns etc are included . There are out of the box functionality which helps the business with multiple automation tools etc. There are standard object such as Campaigns , Trade Shows , Leads, Pricebook etc which can directly be used to store the data . There are tools of salesforce such as workflowes , process builder , flows which are used to automate things such as record update or sending a email to the client automatically. We can build lightning components which can be used as a User Interface by the client to add the details and interested area. Leads can be generated through multiple campaigns where a client login and shows interest in some products . Those leads are assigned to a queue or a particular team using Lead assignment rules so that they can work on it and convert the Lead . Salesforce is a cloud based technology so it is available with you wherever you go . The data will be stored in Salesforce itself and there is no chance to lose data of clients . Overall its a great package provided by Salesforce to large business to make things easy for them.
Cons:
The lightning experience is really slow as compared to Classic . it usually takes time to reload the website as it is totally cloud based technology . They cn much better work on the user interface to make it real quick as loading the Lightning Components and web components takes time to load . The mobile experience on Tabs is not that great and can be improved.
Greg B.
Implementation Consultant in UK
Computer Software, 2-10 Employees
Used the Software for: 2+ years
Source: SoftwareAdvice
Alternatives Considered:
Top CRM for Sales for a reason
Comments: I really enjoy working in Salesforce, and helping others to get the best from the system, sometimes the amount of choice can seem overwhelming, but I have yet to come across a problem that couldn't be resolved
Pros:
The Salesforce platform is highly customisable, so while you get some features out of the box that you can implement, you are only limited by the imagination (and technical knowhow) in where you want to take the system, and the platform can grow with your needs should you wish to move outside of Sales only, there are add ons that can be purchased/enabled which will allow you to manage multiple areas of your business should you wish.
Cons:
There is a possibility to over engineer the system, or to create too many customisations, which could lead to boxing yourself in, luckily there are plenty of resources available to be able to steer you in the right direction