Lusha
What Is Lusha?
Lusha is a sales intelligence platform that helps you speed up your sales cycle with zero effort. Our unrivaled and compliant B2B data is trusted by over 1M users. Lusha Prospecting Platform lets
Read more
you prospect at massive scale for faster outreach. Pull up millions of verified emails and numbers on the right decision makers in a few clicks. Lusha Extension makes it easy to laser-target any prospect anywhere online: LinkedIn, Sales Navigator, Recruiter, company sites, Salesforce and HubSpot.
Read less
Who Uses Lusha?
Lusha is used by revenue teams: sales, marketers, recruiters, business developers, and professionals with direct client relationships.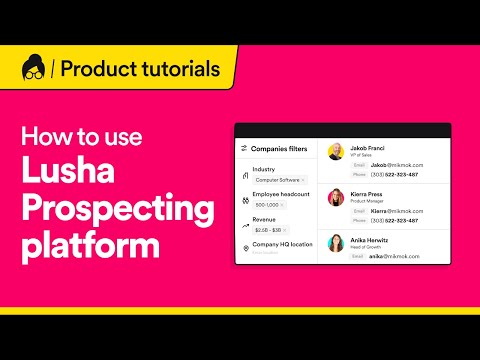 Not sure about Lusha? Compare with a popular alternative
Sage
Marketing Automation in US
Verified LinkedIn User
Marketing & Advertising, 201-500 Employees
Used the Software for: 1+ year
Alternatives Considered:
Fast & Accurate Prospecting at the Touch of a Button
Comments: I have been using Lusha for about 1.5 years and I have never once run into an issue using this software. Furthermore, Lusha complies with the standards set by GDPR and CCPA, which takes a lot of stress off of my shoulders (as I have noticed many of the alternatives do not offer this option).
Pros:
Lusha is incredibly easy to use and integrates perfectly with our companies Salesforce. The ability to quickly gather accurate and tested contact information ensures that our sales team always has the highest quality contacts available. Furthermore, Lusha customer support makes it easy to troubleshoot any issues you may come across.
Cons:
I believe that it would be beneficial for Lusha to be able to pull geographical locations from LinkedIn profiles in addition to emails and phone numbers. Perhaps having a checkbox that allows users to pick and choose what data they would like to pull can be useful.
Olivia
Vice President, Sales and Business Development in US
Verified LinkedIn User
Nonprofit Organization Management, 51-200 Employees
Used the Software for: 2+ years
Alternatives Considered:
Great Data and Has Gotten Better Over the Years!
Comments: I love Lusha..I've been using it for years and the data has gotten even more accurate.
Pros:
The accuracy of the data and prospecting tool
Cons:
I've found that many of the contacts are retired or at different companies, otherwise very accurate.
Lusha Response
6 months ago
Thanks for the great score, Olivia!
Jeevan
Operations Manager in India
Verified LinkedIn User
Information Technology & Services, 201-500 Employees
Used the Software for: 2+ years
One of the best Enrichment tool which can be used by any industry
Pros:
Lusha is one of the best tool available in the market which helps any Database enrichment team work more easy. We have been using multiple tools and Lusha provides the best results. Using Lusha and Hubspot helps easy export of data into the CRM.
Cons:
As not all enrichment platforms are accurate, it happens with Lusha as well for atleast 8-10% of Inaccurate emails/contact details are provided.
Verified Reviewer
National Account Manager in US
Verified LinkedIn User
Information Technology & Services, 2-10 Employees
Used the Software for: 1+ year
Source: GetApp
Do not use Lusha
Comments: Bad
Pros:
It integrated with an app I was using fairly easily
Cons:
The information was either wrong or stale. They do not live up to their commitments for the amount of leads you get.
Yawar
BD Manager in United Arab Emirates
Accounting Software, 51-200 Employees
Used the Software for: 2+ years
Great Tool to generate leads
Pros:
If you are making cold calls, this is an essential tool. In most cases, Lusha was able to find the mobile numbers and emails I was looking for. In fact, it's extremely simple, as the app pops up with the contact information without you having to do anything, you just need to click the button.
Cons:
There is nothing I dislike about Lusha. I can always contact the support team for assistance and answers to my questions. In addition to that, Lusha is improving every day, and I think it's a simple tool with a simple interface. My hope is that it will work on all websites.