What Is PayPro Workforce Management?
Whether your organization has 100 employees or 1000, our team has one goal - make your life easier. Our cloud-based platform gives you real time visibility into every aspect of your workforce with direct access to our in-house support and subject matter experts. We summarize our commitment as big & smart enough to do the work well & small enough to understand your business personally. Our 28 years experience includes industry-leading client retention thanks to our high-quality service.
Who Uses PayPro Workforce Management?
Organizations looking for an expert support partner, not just a typical software company call center. Our 100% cloud-based platform scales from SMB (100+ Employees) to Enterprise.
Where can PayPro Workforce Management be deployed?
Cloud-based
On-premise
---
About the vendor
Paypro Workforce Management
Founded in 1992
PayPro Workforce Management support
Countries available
United States
About the vendor
Paypro Workforce Management
Founded in 1992
PayPro Workforce Management support
Countries available
United States
PayPro Workforce Management videos and images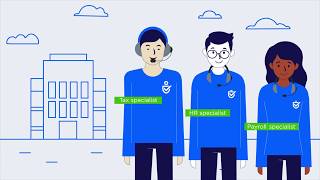 Compare PayPro Workforce Management with similar products
Features of PayPro Workforce Management
360 Degree Feedback Software
ACA Reporting
Action Management
Activity Tracking
Applicant Tracking Software
Approval Workflow
Automated Scheduling
Benchmarking
Benefits Dashboard
Billable & Non-Billable Hours
Billing & Invoicing
Budgeting/Forecasting
COBRA Administration
Calendar Management
Candidate Profiles
Candidate Tracking
Careers Page
Check Printing
Compensation Management Software
Compliance Tracking
Dashboard Software
Deduction Management
Direct Deposit
Disability Insurance Administration
E-Verify/I-9 Forms
Electronic Forms
Email Management Software
Employee Benefits Administration
Employee Database
Employee Handbook
Employee Management
Employee Profiles
Employee Recognition Software
Employee Scheduling Software
Expense Tracking
Goal Setting / Tracking
HIPAA Compliant
HR Metrics Library
Health Insurance Administration
Individual Development Plans
Interview Scheduling
Job Posting
Labor Forecasting
Leave Tracking
Life Insurance Administration
Mentorship
Mobile Access
Mobile App
On-going Performance Tracking
Onboarding Software
Online Benefits Enrollment
Online Punch Card
Online Time Clock
Online Time Tracking Software
Orientation Workflow Management
Overtime Calculation
Payroll Management
Payroll Reporting
Peer Appraisals
Performance Management
Performance Metrics
Performance Review Management
Project Tracking Software
Provider Management
Pulse Surveys
Punch card
Question Library
Recruitment Management
Reporting/Analytics
Resume Parsing
Resume Storage
Retirement Plan Management
Review Cycle Tracking
Self Assessment
Self Service Portal
Sick Leave Tracking
Skills Assessment
Skills Tracking
Succession Planning Software
Talent Management Software
Tax Compliance
Time & Attendance
Time Off Management
Time Tracking Software
Timesheet Management
Training Management
Trend Analysis
Turnover Tracking
Vacation/Leave Tracking
W-2 Preparation
Workflow Management Software
PayPro Workforce Management Alternatives
Reviews of PayPro Workforce Management
Verified Reviewer
CEO in US
Verified LinkedIn User
Marketing & Advertising, 2-10 Employees
Used the Software for: 2+ years
Obious choice for businesses in need of a reliable payroll, compliance and workforce mgmt solution
Comments: We use Paypro to manage our HR admin duties around payroll and compliance.
Pros:
Paypro takes a typically frustrating part of running a business and makes the entire process easy - anytime I've needed anything, their team was right there to help us along.
Cons:
Nothing I can think of. Paypro keeps us compliant, up-to-date and we have not had any issues to date.
Greg
Chief Administrative Officer in US
Nonprofit Organization Management, 201-500 Employees
Used the Software for: 2+ years
Alternatives Considered:
Excellent HR and Payroll Management System
Comments: We run our 250-person non-profit HR, time and attendance, and payroll functions on this system. We're basically very happy with it. The implementation staff were excellent!
Pros:
Paypro's system has a very extensive feature set, so it seems to be able to accommodate just about anything one could want to implement in terms of payroll, time and attendance, or HR. I love the reporting, which makes it easy for an Excel user to create custom reports. The customer service staff is generally knowledgeable and helpful, and usually quick to respond.
Cons:
Due to the extensive feature set, there is a pretty heavy learning curve to understand and use all of the features. That's to be expected with a system of this complexity.
Individual & Family Services, 201-500 Employees
Used the Software for: 2+ years
overview
Comments: so far it has been very good. there are some kronos issues with year end reports not exporting due to size and although it is July, i have not had an resolution from kronos on this issue that arose for year end 2019
Pros:
hr and payroll together is great and all the reporting available
Cons:
we are currently being switched to a 'new look'. so far, i do not like it and wish that the classic view would stay as an available choice and not be going away
Debra
Accounting Coordinator/Payroll in US
Wholesale, 11-50 Employees
Used the Software for: 2+ years
Paypro is a pleasure compared to other payroll companies
Pros:
We switched to Paypro from another payroll company that was causing us a lot of grief. The payroll process is very smooth with Paypro. There is always someone available to help if I have any issues with processing or any part of the system. Every part of the process is streamlined and very easy to understand. Five star review from me for sure.
Cons:
The only con I can think of is some of the reporting. I had some issues in the beginning but the more i used the system - the easier it has gotten.
Facilities Services, 51-200 Employees
Used the Software for: 2+ years
Alternatives Considered:
The Point
Comments: Good
Pros:
Relative ease of use and the scan in for employees
Cons:
The recent change in setup of menus without informing us !!