What Is Commusoft?
Commusoft is an all-in-one online workforce management software for the trades.
Transform your installation workflows, revamp your maintenance operations, and reorganize your service jobs!
Commusoft helps trades businesses manage their customer database, quotations, jobs, team calendars, certificates and invoicing. We integrates with popular accounting packages such as Sage, QuickBooks and Xero. The Commusoft app is accessible on your PC, Mac, iPhone, iPad, Android phone and Android tablet.
Who Uses Commusoft?
Commusoft is an all-in-one online service software to manage your trades business: customer database, quotations, work orders, dispatch, assets, inventory, invoicing, payments and more.
Where can Commusoft be deployed?
Cloud-based
On-premise
---
About the vendor
Commusoft
Located in London, UK
Founded in 2006
Commusoft pricing
Starting Price:
No free trial
No free version
Commusoft does not have a free version and does not offer a free trial.
Pricing plans
About the vendor
Commusoft
Located in London, UK
Founded in 2006
Commusoft videos and images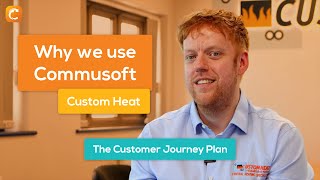 Features of Commusoft
Accounting Integration
Accounting Software
Activity Tracking
Add & Edit Photos
Alerts/Notifications
Appointment Scheduling Software
Asset Tracking Software
Automated Scheduling
Billing & Invoicing
CRM Software
Compliance Management
Contact Database
Contract/License Management
Cost Database
Cost Estimating
Customer Database
Customer History
Customer Management
Customer Portal
Customizable Fields
Customizable Reports
Customizable Templates
Data Import/Export
Data Synchronization
Dispatch Management
Document Management Software
Document Storage
Electronic Signature
Employee Database
Employee Scheduling Software
Equipment Management
Equipment Tracking
Estimating
For Commercial and/or Industrial Electrical Contractors
For HVAC Companies
For Plumbing Industry
Forms Management
GPS
Inspection Management
Inventory Management Software
Invoice Management
Job Costing Software
Job Management
Labor Forecasting
Location Tracking
Logistics Management
Maintenance Management Software
Maintenance Scheduling
Mobile Access
Mobile App
Multi-Location
Online Time Clock
Payment Collection in the Field
Payment Processing Software
Photo Capture
Preventive Maintenance Software
Project Management Software
Quotes/Estimates
Real Time Data
Real Time Notifications
Real-time Updates
Reminders
Report Summary
Reporting & Statistics
Reporting/Analytics
Residential Inspections
Routing
Scheduling Software
Service History
Technician Management
Template Management
Templates
Third Party Integrations
Time & Attendance
Time & Expense Tracking
Time Tracking Software
Timesheet Management
Work Order Creation
Work Order Management
Workflow Management Software
Phil
Director in UK
Verified LinkedIn User
Used the Software for: 2+ years
Reliable, advanced, bespoke software that I genuinely couldn't run my business without.
Pros:
Apart for the ability to seamlessly control every aspect of my business, from the initial customer inquiry all the through to invoicing, it's the customer support and wide range of industry-specific knowledge which the Commusoft team delivers that sets them apart from the competition. I really don't know how I managed before using Commusoft. Commusoft is constantly evolving and updating. Whenever I think of a function I would like to see available it's usually already been thought of and in the process of happening.
Simon
Managing Director in UK
Utilities, 2–10 Employees
Used the Software for: 2+ years
Exquisite
Comments: Since incorporating Commusoft in to our business in 2012, the software has assisted us greatly in developing and growing as a business. They are constantly working on new updates and developments to improve the software and add new features and if you do have any issues along the way, they are always on hand to assist you with client support.
Pros:
It covers almost everything we need from the diary, invoicing, estimating and key reporting.
Cons:
Integration (transfer of date) with Sage can be problematic. It wasn't always problematic but has been more recently.
Alternatives Considered: Joblogic and Gas Engineer Software
Reasons for Switching to Commusoft: Those I spoke with and the software itself which I preferred at the time (2012).
Martin
Heating engineer, Director in UK
, 2–10 Employees
Used the Software for: 6-12 months
Experience with commusoft
Comments: When you first start you should be given more one to one help, then mistakes wouldn't happen.
Bit disappointed with the diary and other features, cant understand why I've not been set up on the new system yet which looks a lot better.
Seem to be having lots of problems with the two systems together quick books and commusoft.
Pros:
Customer data base, quick to find out what you have done at a property,
Cons:
need more training on how to use the software, now ive been using it a while, I'm sure there is plenty of bits I'm not using that I could be using
Commusoft Response
6 years ago
Hi Martin, we appreciate users have different roles/skills within a business, so we provide users access to our knowledge base which contains videos/guides about how to use the system. We have training programmes for 1-2-1 training, walking clients through the system and provide consultation on how to adhere to best practises when using the system. Let me know if you want more details. I've checked with the technical team regarding QB and cannot see open tickets with you on this, please email [email protected] who will be happy to help. As much as we would love to have all our clients on the new version, the process is not a simple software upgrade and much more like moving from one software to another. This means the process is longer and more complex. We¿ve already started migrating clients as part of the beta program so we can make sure we are ticking all the boxes as your data is important to us, as it is to you.
Construction, 2–10 Employees
Used the Software for: 2+ years
Review from a plumbing company
Comments: Excellent, Once it's all set up which does take a little time it makes us so efficient.
Pros:
Love this software, we upgraded to commusoft from cheaper alternatives and will stick with commusoft. All engineers love the app, Far easier for everyone to use. Can store photos/videos/certificates on each job. Estimating/invoicing great too. Also great integration with accounting software
Cons:
Only thing I would love is a refresh button on the app, as there can be a slight lag sometimes.
Construction, 2–10 Employees
Used the Software for: 2+ years
Amazing
Comments: Brilliant, love it
Pros:
Very easy to use, store all the info a business like ours could need, integrates with Xero and Stripe which save us lots of time, no need for any paperwork, could not live without it.
Cons:
Only minor annoyances.... Doesn't seem to work well on mac (home computer) not sure if this is my computer though or if I'm doing something wrong but it has lots of buttons missing and only half a screen etc... the engineers complain about the app sometimes, the diary being on the complete wrong day, I have noticed its a lot better since it has been updated. It takes 4 clicks to print 1 invoice! You cant amend service sheets from the office, I understand why but its very annoying when they have done one mistake like not clicked rented. You cant see feedback on the diary when you hover over each job, you have to type in every job number into another tab as when you click view job from the diary you loose your dairy day so have to keep going clicking back to the diary, please let us see feedback from the diary when you hover over the event. This is one of my biggest hates about commusoft, when you open the side bar eg view diary event from the job page, if you want to close that side panel this comes up, and you have to click this to close it, really hate this. Are you sure you want to close side panel? Yes No, it would be so much better it you could just click off it like you can when you open a service cert, you can view it then click the main page and it just closes (emails do it as well, really annoying)