What Is Quant?
In Quant, our clients draw and manage the floorplans of thousands of stores
and publish hundreds of thousands of planograms every year.
Thanks to the smart automatic generating of planograms optimized according to sales
based on user-defined templates it is possible to maintain the planograms in up-to-date state also in large sales networks with diverse stores without increasing demands on human resources.
Who Uses Quant?
Quant is a cloud solution for the management of retail space, product categories, planograms, shelf labels and automatic ordering.
Where can Quant be deployed?
Cloud, SaaS, Web-based, Mac (Desktop), Windows (Desktop)
About the vendor
by Quant Retail
Located in Tupadly, Czechia
Founded in 2001
Chat
Quant pricing
Starting Price:
€1,200.00/year
Yes, has free trial
No free version
Quant does not have a free version but does offer a free trial. Quant paid version starts at €1,200.00/year.
Pricing plans
get a free trial
About the vendor
by Quant Retail
Located in Tupadly, Czechia
Founded in 2001
Chat
Quant videos and images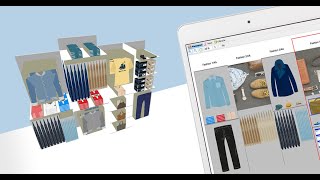 Quant Features
API
Accounting Integration
Activity Dashboard
Barcode / Ticket Scanning
CRM Software
Commission Management
Credit Card Processing
Customer Database
Customer History
Customizable Reports
Data Synchronization
Discount Management
Electronic Payments
Email Marketing Software
Employee Management
For Retail
Forecasting
Gift Card Management
Inventory Management Software
Inventory Optimization Software
Inventory Replenishment
Inventory Tracking
Loyalty Program
Mail Order
Merchandise Management
Multi-Currency
Multi-Location
Offline Access
Order Management Software
Point of Sale (POS)
Promotions Management
Purchase Order Management
Real Time Analytics
Real Time Data
Real Time Monitoring
Real Time Reporting
Real-time Updates
Receipt Management
Reporting & Statistics
Reporting/Analytics
Retail Inventory Management Software
Returns Management
Sales Orders
Sales Reports
Sales Trend Analysis
Shipping Management
Stock Management
Third Party Integrations
Warehouse Management Software
eCommerce Management
API
Access Controls/Permissions
Activity Dashboard
Ad hoc Reporting
Alerts/Notifications
Asset Lifecycle Management
Booking Management
Calendar Management
Change Management Software
Contract/License Management
Customizable Branding
Customizable Reports
Data Import/Export
Data Visualization Software
Design Management
Document Management Software
Document Storage
Drag & Drop
Email Management Software
Facility Scheduling
Fixed Asset Management Software
Floor Plans & Maps
For Offices
For Retail
Forecasting
Inventory Management Software
Inventory Tracking
Maintenance Scheduling
Multi-Location
Occupancy Management
Planogramming
Project Management Software
Projections
Real Time Data
Real-time Updates
Reporting & Statistics
Reservations Management
Resource Allocation & Planning
Resource Management Software
Room Booking
Scheduling Software
Shelf Planning
Space Management Software
Space Reservation
Third Party Integrations
Usage Tracking/Analytics
User Management
Visual Analytics
Work Order Management
Workflow Management Software
---
Reviews by company size (employees)
<50
51-200
201-1,000
>1,001
Maksym B.
Head of Business Analyst Department in Ukraine
Verified LinkedIn User
Retail, 1,001-5,000 Employees
Used the Software for: 1+ year
Quant of order
Pros:
Quant Retail is a useful tool for creating planograms with a good visualization and analytics system.
Cons:
The system is not fully localized for Ukraine.
Lukáš J.
Head of Spacemanagement in Czechia
Apparel & Fashion, 1,001-5,000 Employees
Used the Software for: 2+ years
Quant Retail in Sportisimo s.r.o
Comments: We are currently using Quant Retail for store space planning and planograms (shelf plans) to maximize the effectiveness of space in our stores. With Quant Retail is this process very easy to do, because in Quant is a lot of analytical tools to give you all needed data in one place.
Every company has different needs and Quant retail knows it very well. So the implementation is much easier.
Pros:
All data about your stores/categories in one place. Easy store space planning analysis with many features. Web Quant Solution to communication across your company (Stores, area managers, logistic, buying)
Cons:
Sometimes is a bit slower but Quant Retail tweaking it
Alternatives Considered: Luminate Platform
Reasons for Switching to Quant: Quant Retail knows that every company has different needs and your company doesn't need to change processes because of Quant Retail.
Nabil L.
Data scientist in France
Education Management, 201-500 Employees
Used the Software for: 1-5 months
Excellent all in one platform
Pros:
- Everything we need in the same platform - Analytics are good source of detail - Automation - Good support
Cons:
The less pleasant part of the software is the learning curve, but once mastered its a joy to use.
ExTech Response
2 years ago
Hetic is not client of Quant Retail so we don't think this review is authentic.
Shanike D.
Space Manager in Sri Lanka
Retail, 1,001-5,000 Employees
Used the Software for: 6-12 months
Massively Capable Visual Merchandising Software
Comments: If there are any features missing from the initial setup you can have them programmed into Quant in no time through the robust support from quant.
Pros:
Extensive feature list and unparalleled support
Cons:
There's nothing we dislike at the moment. Learning curve is high specially for Space Managers.
Vaclav P.
category and merchandiser manager in Czechia
Automotive, 1,001-5,000 Employees
Used the Software for: 2+ years
Quant in Auto Kelly
Comments: We got product presentation under control on the sales floor with planograms and store layouts.
Quant developed price tag tool for us. It helped to shop assistants to reprice product simply and quickly.
We can manage product portfolio with analyzes. We could start category management so far.
Pros:
Complex concept for category management and merchandising. Great communication channel for store support. Constant personalized development of new tools and features.
Cons:
It took time to understand the enviroment of the software but then it works great for us.