What Is Zendesk?
Zendesk is the only complete customer service solution, that is both easy to use and scales with your business. On average, companies using Zendesk increase customer satisfaction by 25% and agent productivity by 30% - at any scale. All your customer interactions live in a single, dynamic interface with features like web widgets, pre-defined ticket responses, and a full customer history. Get up and running quickly, and expect to see results even faster.
Who Uses Zendesk?
Over 160,000 companies rely on Zendesk's customer service solution to build the best customer experience. Our software is powerful and flexible, and scales to meet the needs of any business.
Zendesk Details
Zendesk
Founded in 2007
Zendesk Details
Zendesk
Founded in 2007
Zendesk videos and images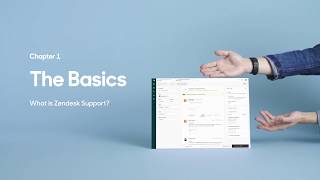 Compare Zendesk with similar products
Starting price
$19.00/month
$18.00/month
$38.00/month
$16.00/month
Zendesk deployment and support
Support
Email/Help Desk
FAQs/Forum
Knowledge Base Software
Phone Support
24/7 (Live rep)
Chat
Deployment
Cloud, SaaS, Web-based
Android (Mobile)
iPhone (Mobile)
iPad (Mobile)
Training Software
In Person
Live Online
Webinars
Documentation
Videos
Ernesto M.
Cx Automations Analyst in Peru
Verified LinkedIn User
Information Technology & Services, 201-500 Employees
Used the Software for: 2+ years
The most complete CRM nowadays
Pros:
It letted us build solutions from the ground up, using their App framework (Zendesk app tools) and consuming their perfectly structured API. Zendesk is fully customizable, having custom triggers and automations that executes actions when some business rules are meet.
Cons:
We didn't find any problem with Zendesk so far due to the awesome team they have and the immediate support
Kieran K.
Event Manager in Taiwan
Events Services, Self Employed
Used the Software for: 2+ years
Alternatives Considered:
All in one solution
Comments: Easy implementation
Gradually expanded to other features
Still need better tracking
Pros:
Replaced a number of systems and allows for tracking history across mediums
Cons:
Slow to use when many apps and integrations configured
Laurent F.
Responsable R&D in France
Insurance Software, 11-50 Employees
Used the Software for: 1-5 months
la pire expérience support qui soit !
Comments: Zendesk est un excellent service de support.
Malheureusement, en terme d'assistance technique ils sont aux abonnés absents.
Alors qu'ils prévoient contractuellement une assistance téléphonique, celle-ci n'est accessible que d'eux vers leurs clients (impossible de les appeler). Il reste alors à faire une demande d'assistance avec le Chatbot le plus stupide du net ! Je cite à l'envie : demande de se connecter pour s'identifier alors que vous êtes connecté (donc impossible de s'identifier), demande de s'identifier par un code envoyé par email qui arrive une fois sur 4 et lorsque l'email arrive le code est absent (donc impossible de faire une demande), etc. Parlons enfin des délais de réponse de Zendesk : minimum 3 jours ouvrés pour obtenir une réponse le plus souvent demandant des précisions donc encore 3 jours pour avoir une réponse... En fait, il ne faut pas avoir besoin d'eux ! Si vous vous plaignez de leurs carences, ils vous proposent de vous communiquer les coordonnées d'intégrateurs ! En résumé, si vous n'avez pas le budget nécessaire pour vous payer un intégrateur et que vous n'êtes pas hyper patient il vaut mieux ne pas choisir Zendesk. C'est paradoxal : un des meilleurs services de support client du marché propose à ses propres clients la pire expérience support qui soit !
Pros:
Performant et efficace. Procure une excellente expérience pour l'utilisateur final
Cons:
Service client Zendesk pouvant prétendre à être le plus mauvais du monde
Verified Reviewer
My best help desk application in Nigeria
Verified LinkedIn User
Government Administration, 501-1,000 Employees
Used the Software for: 2+ years
Best in complaint management
Comments: Its really a simple to use application which assists my organization in collation and processing of clients realtime data. This helped my organization in organizing our services and making improved responses to customer complaints and this definitely built a considerable amount of trust. Thumbs up to Zendesk
Pros:
This application has kept us organized for quite sometime especially on the platform of issue resolution of our clients and ticketing. It is a very user friendly application with campaign management and provision of real time data. It is simply a very useful tool.
Cons:
I would have loved such a very resourceful tool to have a feature for network monitoring and realtime chatting feature, this would have made its operation more seamless. The major problem is the customer care which I believe doesn't exist.
Verified Reviewer
Product manager in US
Verified LinkedIn User
Financial Services Software, 51-200 Employees
Used the Software for: 1+ year
Alternatives Considered:
a good tool from the alphabet (google) house hols
Comments: a good tool with good capabilities but you should take in mind the pricing package and users license that make this tool a very expensive one for big companies
Pros:
good support managed by google great for big corporate and companies very versatile tool
Cons:
pricing is very high compare to alternative in the market