What Is Outreach?
Outreach frees sales teams to focus on what matters: engaging customers.
Our platform enables teams to stand out and connect with prospects and customers in meaningful ways. Outreach brings to light what resonates best, so you can create a playbook for your entire teams success. From startups to enterprises, companies rely on Outreach to simplify the path to predictable revenue.
Who Uses Outreach?
Chief Revenue Officer, Chief Sales Officer, SVP/RVP Sales, VP Sales, Sales Director, Account Executive, Sales Manager, Sales Operations, Sales Enablement, Demand Generation, Business Development
Outreach Details
Outreach
Founded in 2014
Outreach Details
Outreach
Founded in 2014
Outreach videos and images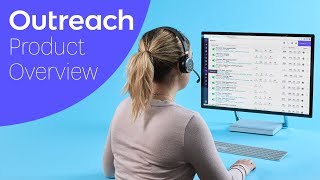 Compare Outreach with similar products
Starting price
N/A
N/A
$12.00/month
$50.00/month
Outreach deployment and support
Support
Email/Help Desk
FAQs/Forum
Knowledge Base Software
Phone Support
Training Software
In Person
Webinars
Documentation
Videos
Nate E.
Mid-Market AE in US
Verified LinkedIn User
Computer Software, 201-500 Employees
Used the Software for: 1+ year
Best sales sequencing tool on the market, hands down
Comments: Overall, I'm a huge fan of Outreach. It's a tool that I'll look for in my next company or at least recommend. If you have a large SDR and Inside Sales force, it's just silly not to invest in this technology. I save so much time on my prospecting and it holds me accountable. The reports on your progress are easy and when I work with my SDR multi-threading into an account, we can see each other's activity so we don't overlap.
Pros:
At first, Outreach can look a bit overwhelming, but once you get through some early training, it will become second nature and best friend for prospecting. We also use Outreach as our dialer. What I love most is the ability to make quality drip campaigns, email sequencing that can be combined with phone and LinkedIn messaging, along with integrating with SFDC. I'm also a big fan of using Snippets which is a great way to create short sentences or data that you want to include in emails, while not going overboard on boring templates.
Cons:
Not much, other than there's a lot going on. There are account and prospect views that you can build reports on top of that I really never use, but I'm sure could be useful. If you can focus on core functionality, then it's really quite easy to use.
Shaun H.
Senior Revenue Operations Analyst in US
Verified LinkedIn User
Information Technology & Services, 51-200 Employees
Used the Software for: 2+ years
My favorite tool out there
Comments: Overall A+++. I've been using Outreach for 4+ years, and that's a mix of end user and administrator. I love it and will bring it with me to my next company.
Pros:
I first used Outreach as an SDR and loved the tool so much that I wanted to help improve and customize it. Later I joined the team that administered the tool, and was in charge of Outreach customizations. I like that it's flexible and powerful. It can accomplish most things you want to from a outbound activity automation effort.
Cons:
There are quirks to it at times such as bulk compose emails being sent out at 12am if you hit your limit the day before. It's also not the easiest tool for sales reps to pickup. Having a dedicated enablement person create sequences for sales to use would be ideal, otherwise expect to be on a couple calls with reps until they learn the tool.
Verified Reviewer
Account Executive in Australia
Verified LinkedIn User
Financial Services Software, 201-500 Employees
Used the Software for: 1+ year
Misled, big time.
Comments: My AE was good, he did his job the way an AE should. Everything are yet I signed the contract was just below the bar.
Pros:
Looks pretty, cheaper than some products but still expensive.
Cons:
I spent 12 months trying to troubleshoot issues I was having with my signature pictures not sending through, I went back and forth with their support being asked to try all these different things that genuinely never worked. What's the MOST disappointing this about all of this is I asked on numerous occasions if this issue was happening with any of outreaches other clients using outlook and outreach together, I was told definitively that it was not happening with ANY integrations and it was only my business that the issues were occurring. I've now moved to another company that use Outreach, and of course, the issue with the signature happens again. It's clear that integrity is low in the business, I was made to believe that our case was so so rare, and I spent hours and hours trying to fix it. It may seem like such a simple thing, a picture in a signature not sending though, but the way I work and the standard the business sets, we looked low tied to new prospects with sloppy email looks. The editing tool for templates and snippets is way behind the times, and it actually blew me a way how difficult it was to use, spacing, character size, and general format NEVER looked the way it needed to looks.
Verified Reviewer
Product Marketing Manager in Germany
Verified LinkedIn User
Information Technology & Services, 51-200 Employees
Used the Software for: 1+ year
Great tool for automating repetitive tasks
Pros:
Easy to use, easy to scale and great tool to keep track of open tasks. Provides summary of engagement.
Cons:
Sometimes, it was slow to load. Very rarely it also did not update the status of the leads correctly.
Verified Reviewer
Account Executive in US
Verified LinkedIn User
Computer Software, 10,000+ Employees
Used the Software for: 2+ years
Outreach is great if used with integrations
Comments: Outreach is core to my outbound sales process. I also use the calendaring feature to have people book time on my calendar.
Pros:
I like outreach's ability to connect to Linkedin inMail and Vidyard - definitely use Outreach in tandem with other solutions to drive results. You'll hit a ceiling just using sequences.
Cons:
There are a lot of features and it can be overwhelming at first. You're going to need a lot of enablement and training for the sales team to adopt.