What Is 3CX?
3CX is an open standards IP PBX that offers complete Unified Communications, out of the box. Suitable for any business size or industry. With 3CX employees can work efficiently from anywhere. Video conferencing, live chat, mobile apps and advanced contact center features are all included at a fraction of the cost.
Choose to deploy on premise, in your private cloud account or opt for 3CX to host your PBX for you. Whatever your preference, you are guaranteed a hassle-free solution.
Who Uses 3CX?
3CX is an open standards IP PBX that offers complete Unified Communications, out of the box. Suitable for any business size or industry that wants to cut on telco costs.
3CX Details
3CX
Founded in 2008
3CX Details
3CX
Founded in 2008
3CX videos and images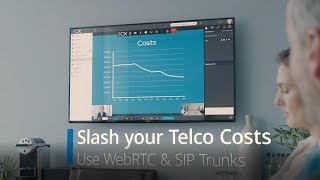 Compare 3CX with similar products
Starting price
$0.00/year
N/A
$4.99/one-time
N/A
3CX deployment and support
Support
Email/Help Desk
FAQs/Forum
Knowledge Base Software
Phone Support
Chat
Deployment
Cloud, SaaS, Web-based
Mac (Desktop)
Windows (Desktop)
Linux (Desktop)
Windows (On-Premise)
Linux (On-Premise)
Android (Mobile)
iPhone (Mobile)
iPad (Mobile)
Training Software
In Person
Live Online
Webinars
Documentation
Videos
Ryan G.
Assistant Manager in US
Verified LinkedIn User
Information Technology & Services, 11-50 Employees
Used the Software for: 2+ years
The best VoIP phone system for small businesses
Comments: We had a customer that had 3 different companies within the walls of the building. We were able to configure each company separately so that their rules, hours, and each had different SIP providers that needed to be configured up properly. Each had their own digital assistant and the system setup took only a few hours to complete with all the complexity that was involved. Technical support was outstanding in assisting with the troubleshooting and setup.
Pros:
The 8 concurrent call Standard License is free to all companies. This makes it a perfect solution for churches, small businesses, and as the small businesses grow into medium sized businesses, the annual cost for the license with higher concurrent calls is nominal. When companies switch from the POTS lines, they need to figure out a good solution for VoIP. 3cx is lower cost than RingCentral and 8x8 as well as many other competing VoIP softwares.
Cons:
Putting in supported APAP adapters is great, but when a customer has a non supported adapter, it usually works, but doesn't play nicely with the software as far as configuring it easily.
3CX Response
2 years ago
Sincere thanks for your feedback.
Alexander F.
Customer Success Manager in Brazil
Computer Software, 11-50 Employees
Used the Software for: 1+ year
Serves small businesses very well for free.
Comments: In my opinion, it is a very good tool and hardly ever had problems, because the tool is very stable and with a very good usability, serving very well small businesses.
Pros:
• It is free. • Assists in the company's internal communication. • It is always updated with improvements. • Ease of receiving and transferring calls. • Ease of configuration and installation by the end user.
Cons:
• We used the trial version quietly for 1 year, but due to technical problems due to a codec, it caused a major internal problem where we stayed 3 days without a phone. For this reason the support of the company that provides the service asked us to change the application.
3CX Response
2 years ago
We are sorry to hear that you had codec issues. Can you explain which codec was used and what issues it created? Codecs work using the SIP Offer - Answer model - a standard in SIP used for the update of session dialogs. This means that when a codec is offered by one endpoint (phone), and the receiving endpoint answers "no available codec" then a codec exchange occurs where both endpoints try to find one common codec (language) to use for their media. Like this every call is serviced and has more chances to get 2 way audio. It is important to tell us which codec you tried to use. Because firstly, we might have an issue to investigate or we might also give you an alternative codec you can use. We support all major codecs so I am surprised how the company that serves you recommended that you change the whole app. Nonetheless, thank you for your feedback. I will forward this to the development team.
Hospitality, 201-500 Employees
Used the Software for: 2+ years
Invaluable communication tool
Comments: Overall this is a great product, and kept us fully operational during a very difficult time for the hospitality industry.
Pros:
I like that we could schedule meetings or have them at a moments notice. Throughout the pandemic this kept us in contact with our whole team, and allowed us to give our new team members the same training that they would have had before the pandemic. So much so that we kept several of our video meetings even after travel started back up.
Cons:
It was hard for some people to learn how to create a meeting, and how to share their screen. For us it did take up a lot of our band width and that would slow down you computer if you were working on something else at the same time as a video call.
3CX Response
2 months ago
Hi Lyn and thank you for your feedback. We are happy to hear that 3CX has helped you to keep fully operational during these challenging times. While getting to know how to use 3CX you can always look for help at our User Guide: https://www.3cx.com/user-manual/
David L.
Telephony Software Engineer in US
Verified LinkedIn User
Telecommunications, 11-50 Employees
Used the Software for: 2+ years
Effective Phone System For Small, Simple Offices
Comments: For under 50 extensions and without any special functionality, 3CX is a very user-friendly platform. However, for any project that requires any custom functionality, 3CX will simply not be able to offer help.
Pros:
The 3CX installer on both Linux and Windows is incredibly easy to use and users can go from nothing to a fully-featured phone system in less than 20 minutes. Once installed, the user interface is very clean and straightforward. The 3CX Softphone that can be installed on Windows and mac computers pairs effortlessly with 3CX provisioning files.
Cons:
3CX offers very little customization outside of the user interface, and commonly phone system managers will be simply unable to perform more-complex call routing. As an example, dynamic outbound routes are simply not possible outside of the overly-simple Outbound Routes tab, and you are limited to only prefix, length of destination, and from extension. Compared to FreePBX and FusionPBX, the ability to customize 3CX is almost non-existent. 3CX Support will 100% of the time deflect any technical issues to the carrier, and after numerous ticket responses later, they will finally admit to being able to help. SIP SRV records are completely broken and not compliant with the SIP RFC. It's hilarious how catastrophic this lack of functionality is. Faxing is completely broken. It will be a complete nightmare if you attempt to run T.38 faxing over a 3CX phone system.
Mmathabo M.
IT Administrator in South Africa
Information Technology & Services, 2-10 Employees
Used the Software for: 1+ year
Great Telephone System
Comments: Just had voice quality issue there and there, but it was on the settings and it was resolved.
Pros:
During the first lock down when everyone was forced to work from work, we had 3CX Apps and making calls from home as if we are in the office. The App comes with the Instant Chat platform and Video Conference. It is cheaper to make phone calls from this system.
Cons:
The Microsoft Teams integration hasn't really worked for me, thwy should fix the availability status sync - like when one is in a meeting.
3CX Response
2 months ago
Hi Mmathabo. Thank you for the 5-star review. Currently, the availability status is not implemented but as you can see in our blog post in the following link, it is one of the next things on our to-do list! https://www.3cx.com/blog/releases/roadmap-microsoft-365/ Keep an eye out on our blog post and hopefully, we can convince you to give it another try when we have implemented this feature!