What Is Vagaro?
The #1 salon, spa & fitness software to build your business. Get booked & paid 24/7. Manage appointments & packages while on any device. Get a logo, website, online store & branded app to look like the pro you are. Attract new customers on the Vagaro Marketplace & with social media booking tools. Retain customers & boost sales via text & email marketing. Reduce costly no-shows with automated reminders. Easy to use POS hardware & payment processing. Prices start @ $25/month. Free 1 month trial.
Who Uses Vagaro?
Salon Owners, Spa Owners, Fitness/Gym Owners, Wellness Professionals, Coaches, Nutritionists, Chiropractors, Physical Therapists, Dance Instructors, Pilates Instructors, and Yoga Instructors.
Where can Vagaro be deployed?
Cloud, SaaS, Web-based, Mac (Desktop), Windows (Desktop), Linux (Desktop), Chromebook (Desktop), Android (Mobile), iPhone (Mobile), iPad (Mobile)
About the vendor
Vagaro
Founded in 2009
Phone Support
24/7 (Live rep)
Chat
Countries available
Australia, Canada, United Kingdom, United States
About the vendor
Vagaro
Founded in 2009
Phone Support
24/7 (Live rep)
Chat
Countries available
Australia, Canada, United Kingdom, United States
Vagaro videos and images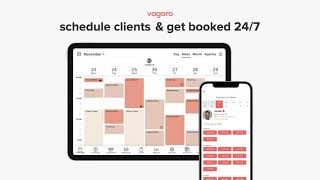 Compare Vagaro with similar products
Features of Vagaro
Activity Dashboard
Address Book
Alerts/Notifications
Application Management
Appointment Management
Appointment Scheduling Software
Attendance Management
Attendance Tracking Software
Automated Scheduling
Availability Management
Billing & Invoicing
Booking Management
Calendar Management
Calendar Sync
Calendar/Reminder System
Class Management
Class Scheduling
Client Database
Client Management
Client Portal
Client Profiles
Color Codes/Icons
Communication Management
Confirmation/Reminders
Contact Database
Customer Database
Customizable Branding
Customizable Forms
Dues Management
EMR/EHR
Electronic Payments
Email Marketing Software
Email Reminders
Employee Management
Employee Scheduling Software
Event Management Software
Faculty/Staff Management
Fitness Plan
For Barbershops
For Chiropractors
For Dance Studios
For Martial Arts
For Medical Spas
For Physical Therapy
For Salons and Spas
For Yoga/Pilates Studios
Gift Card Management
HIPAA Compliant
Inventory Management Software
Loyalty Program
Marketing Automation Software
Member Communication
Member Database
Member Directory
Member Portal
Member Types
Membership Management Software
Membership Renewals
Mobile Access
Mobile App
Multi-Location
Online Booking
Online Payments
Online Registration
Patient Records Management
Payment Processing Software
Payroll & Commissions
Payroll Management
Physician Management
Point of Sale (POS)
Practice Management
Progress Notes
Real-time Scheduling
Real-time Updates
Recurring Appointments
Reminders
Reporting & Statistics
Reporting/Analytics
SMS Reminders
SOAP notes
Scheduling Software
Self Service Portal
Social Media Integration
Staff Management
Third Party Integrations
Treatment Planning
Website Integration
Axel
Engineer in Mexico
Verified LinkedIn User
Automotive, 2-10 Employees
Used the Software for: 6-12 months
Alternatives Considered:
It's great but unnecessary
Comments: It's awesome really really awesome but like I said is not necessary for small companys, maybe if you grow up in the future it is a better idea. Is your decision.
Pros:
It's a good option for organize all the company schedule, there are so many functions for all, anyone can use this and is not necessary to know about this software, is so intuitive.
Cons:
I really thing that is unnecessary beacuse you can do a lot of this things in other app for free, but some functions are only in this app that made it better. If you don't have the money for pay this, I really recommend use your phone calendar or something like that.
Vagaro Response
2 weeks ago
Hello Axel. We appreciate the review. We'll definitely take your feedback into consideration.
Apparel & Fashion, 2-10 Employees
Used the Software for: 1+ year
Source: SoftwareAdvice
Great system for Nail salon
Comments: So far works great for our nail salon with 3 full-time employees and 2 part time employees. Everyone is staying on top of the schedule and its easy for employees and clients. There are so mani other report and dashboard you can run to be on track.
Pros:
Easy to use, able to do online booking and scheduling for multiple artists at the time. Each artist views the most resent schedule and any last min cancelations.Easy check out.
Cons:
I would love to see more customized features when sending a confirmation message, or reminders.
Vagaro Response
3 weeks ago
Hello Inna. Thank you for sharing your feedback! You are able to customize your email confirmation message, which you can read about in this article https://support.vagaro.com/hc/en-us/articles/115000439594. If you're looking for customized text message, that would require text marketing, which we also offer! You can learn more about the kinds of campaigns we offer here https://support.vagaro.com/hc/en-us/articles/4412652458779
Consumer Electronics, 2-10 Employees
Used the Software for: 1+ year
Just ok, they will nickel and dime you to death
Comments: It's ok, I'm looking for something better that fits what I need and doesn't add in $ for every single thing you do
Pros:
Easy to set up, and app is pretty good as well
Cons:
When a customer pays a deposit booking online (a feature I set up) and upgrades to a package when they come in for service the system doesn't allow the deposit to be applied towards the package so you have to manually refund the deposit payment onto a gift card and then apply that gift card to the purchase of a package which is time consuming and confusing for staff who have not set up the system from the get-go. Not to mention when the client purchases this package Vagaro does not allow them to add gratuity to the package. So clients purchase a package of six sessions for laser hair removal and can spend $1000 Vagaro doesn't see that as a service so they do not allow tipping which is upsetting for practitioners and as a business owner I would like my staff to have that opportunity. After contacting customer support Vagaro suggested that we ask our customers to tip us at each individual treatment, if I were that customer I would leave and never come back again!
Vagaro Response
2 weeks ago
Hello Marie. We appreciate your feedback. Would you please reach out to [email protected], so we can look into this further for you? Thank you.
Cosmetics, 2-10 Employees
Used the Software for: 2+ years
Source: SoftwareAdvice
Alternatives Considered:
I love Vagaro
Comments: It's been great it is a great software for a great price can't beat it
Pros:
I love Vagaro I have used many scheduling software and am picky about what to use because I need software that is robust. Vagaro and allows me to manage my business all in one place and it keeps getting better. Some of my favourite features are taking deposits to book appointments, Forms, branded app, booth rental management, reports, and classes. It is more than scheduling software it allows me to run all aspects of my business in one place which is why I love it so much. It is a must for any beauty professional.
Cons:
Vagaro is constantly adding new features and always listens to users feedback to improve. It is one of the reasons I love it so much because they build it and improve constantly based on what users need.
Vagaro Response
last month
Hello Dior. We're glad to hear your comments! Thanks so much for sharing your thoughts with us!
Hospitality, 2-10 Employees
Used the Software for: 6-12 months
Alternatives Considered:
Two time user
Pros:
I recently switched back to vagaro, they added some features that I wanted and decided of all the scheduling software I've tried, with the updates, this is the best solution out there. Easy to use, almost every option I need or want and pricing is comparable with others.
Cons:
The pos tablet is expensive and often freezes, but the software itself is great!
Vagaro Response
3 weeks ago
Hello Heather. We appreciate your feedback. Thanks for the kind words! If you're still experiencing issues with the POS freezing, please reach out to [email protected]