What Is Connecteam?
Connecteam is a workforce management app that allows managers to put their business processes on autopilot and focus on business growth while also freeing up employees to be more productive, flexible, and happy. Save time and increase productivity with mobile-first custom checklists, forms, and reports; Schedule shifts and track work hours with GPS time clock; Simplify employee communication, enhance professional skills, manage daily tasks and so much more, all in one app.
Who Uses Connecteam?
Connecteam serves the following industries; hospitality, retail, construction, manufacturing, healthcare, services, security, HVAC, and any other industries that have a need to manage their staff.
Where can Connecteam be deployed?
Cloud, SaaS, Web-based, Mac (Desktop), Windows (Desktop), Android (Mobile), iPhone (Mobile), iPad (Mobile)
About the vendor
Connecteam
Located in New York, US
Founded in 2015
Phone Support
Chat
Countries available
Australia, Canada, United Kingdom, United States
About the vendor
Connecteam
Located in New York, US
Founded in 2015
Phone Support
Chat
Countries available
Australia, Canada, United Kingdom, United States
Connecteam videos and images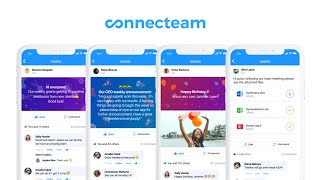 Compare Connecteam with similar products
Features of Connecteam
360 Degree Feedback Software
Access Controls/Permissions
Accounting Integration
Action Management
Activity Dashboard
Activity Tracking
Activity/News Feed
Add & Edit Photos
Alerts/Notifications
Appointment Management
Approval Process Control
Archiving & Retention
Assignment Management
Automated Scheduling
Automatic Time Capture
Availability Management
Benchmarking
Brainstorming
Business Process Automation
Calendar Management
Calendar Sync
Candidate Management
Capacity Planning Software
Cataloging/Categorization
Chat/Messaging
Collaboration Tools
Comment Library
Commenting/Notes
Communication Management
Compliance Management
Compliance Tracking
Contact Database
Contact Management Software
Content Library
Content Management System (CMS) Software
Contractor Management Software
Course Authoring Software
Course Management
Course Publishing
Course Tracking
Create Subtasks
Customer Database
Customizable Branding
Customizable Fields
Customizable Forms
Customizable Questions
Customizable Reports
Customizable Templates
Data Capture and Transfer
Data Import/Export
Directory Listing Management
Discussions / Forums
Dispatch Management
Document Capture
Document Management Software
Document Storage
Drag & Drop
Driver Management
Electronic Forms
Electronic Signature
Employee Activity Monitoring
Employee Benefits Administration
Employee Database
Employee Directory
Employee Handbook
Employee Management
Employee Photos
Employee Profiles
Employee Recognition Software
Employee Scheduling Software
Event Management Software
Event Scheduling
Facility Asset Management
Facility Scheduling
Feedback Management
File Sharing Software
File Storage
For HVAC Companies
For Lawn Care
For Nonprofits
For Plumbing Industry
For Staffing Agencies
Forms Creation & Design
Forms Management
Fuel Tracking
Full Text Search
GPS
Gamification Software
Geofencing
Geographic Maps
Geolocation
Graphical Workflow Editor
Group Management
Historical Reporting
Home Health Care Management
Housekeeping Management
Ideation
Incident Management Software
Interactive Learning
Inventory Management Software
Job Management
Job Posting
Knowledge Base Management
Knowledge Management Software
Layout & Design
Learning Management
Leave Tracking
Live Chat Software
Location Tracking
Maintenance Management Software
Member Directory
Membership Management Software
Messaging
Mobile Access
Mobile App
Mobile Learning Software
Mobile Time Tracking
Multi-Channel Communication
Multi-Channel Distribution
Multi-Language
Onboarding Software
Online Benefits Enrollment
Online Booking
Online Punch Card
Online Time Clock
Online Time Tracking Software
Orientation Workflow Management
Overtime Calculation
Payroll Management
Peer-to-Peer Recognition
Percent-Complete Tracking
Performance Management
Performance Metrics
Productivity Analysis
Profile Change Approvals
Profile Visibility Controls
Progress Reports
Progress Tracking
Project Management Software
Provider Management
Pulse Surveys
Punch card
Question Library
Randomization
Real Time Monitoring
Real Time Notifications
Real-Time Chat
Real-time Scheduling
Real-time Updates
Recognition Tracking
Recurring Appointments
Recurring Tasks
Reminders
Remote Access/Control
Reporting & Statistics
Reporting/Analytics
Residential Inspections
Resource Management Software
Rich Text Editor
Role-Based Permissions
Scheduling Software
Search/Filter
Secure Data Storage
Self Service Portal
Self-Learning
Service History
Shift Swapping
Sick Leave Tracking
Skills Tracking
Social Learning
Status Tracking
Survey Builder
Surveys & Feedback
Task Editing/Updating
Task Management Software
Task Progress Tracking
Task Scheduling
Task Tagging
Technician Management
Template Management
Templates
Text Editing
Third Party Integrations
Time & Attendance
Time & Expense Tracking
Time Off Management
Time Off Requests
Time Tracking Software
Timesheet Management
Touch Screen
Training Administration
Training Management
Transcripts/Chat History
Transportation Management Software
Unified Directory
Usage Tracking/Analytics
User Management
Vacation/Leave Tracking
Vehicle Tracking
Vendor Management Software
Virtual Keyboard
Work Order Management
Workflow Configuration
Workflow Management Software
Scott
Director of Operations in US
Verified LinkedIn User
Information Technology & Services, 2-10 Employees
Used the Software for: Free Trial
Alternatives Considered:
Most Valuable APP for SMB Ever
Comments: Our company utilizes employees here in the US, and numerous remote employees in the Philippines (less than 20 employees). We had one solution for scheduling, another program for task and project management, another app for messaging, and a cloud-based program for time-tracking. Until we found ConnectTeam. Everything we needed (plus more), all in a single solution. Not only did we cut our previous costs by 80%, everything is now in a single solution.
Pros:
- Only add the functions you want. Not encumbered by bloatware or features we will never us. - EXTREMELY intuitive. Once create an account, do the 5 minute walkthrough and you feel confident enough to manage yoir company. - Their FREE option is actually very useful and includes 80% of the features. - FLAT-FEE pricing! Once you decide to upgrade (we chose $29 plan) No 'per-user' cost like virtually every other solution. One flat-fee and can add up to 200 users with no hidden fees. - 24/7 live support; even for the free account! When we first got started, we had a couple hiccups, and at 1:30am, their live support spent over an hour helping us get everything working perfectly (thanks again Noam). - Supports overseas employees in other countries natively. E.g. we have employees in Philippines, and the installed the app and verified their phone numbers via text on their Philippines phone with no issue. Can text-message filipino worked through app, even on free mode. - Messaging/chat options are way better than other messaging apps. Like 'voice' chat, and the ability to integrate other formats. Supports rich text. Take FB messenger, Sling, and viber and combine all the good features, and this is what you have. - GPS tracking of all remote employees.
Cons:
- At the time of writing this review, all admin features have to be done through website, and not through the app (though they say they are working on that). - Could use more hierarchy fratures, other than just basic. Would be nice to see customizable permissions for Administrators (may support but I didn't see). - App only supports Android and iPhone. No desktop app for Windows or Mac available.
ConnecTeam Response
3 years ago
Hi Scott! Thank you so much for taking the time to write this amazing review! Please note that there's A LOT you can do as an admin from the app, under the the ADMIN tab. Make sure to reach out to us for further assistance if needed :)
Lori
Operations Manager in Canada
Construction, 11-50 Employees
Used the Software for: 1-5 months
Great Experiences!
Comments: First of all we have been wowed with the responsive customer service from Reps who all have an expertise. We have found everyone we have worked with or asked questions of to be very knowledgeable.
Pros:
Love the interface and its very user friendly
Cons:
At this time I really can't think of anything.
Connecteam Response
10 months ago
Thank you so much for the amazing review, Lori! All customer-facing employees in Connecteam are no less than real Product Experts! We spend a lot of time and resources on making sure that each and every one of us knows the product, the common use-cases, the main industries our customers are from, and more! We believe that's the only way to provide our customers with an excellent product and top-notch customer service :) Receiving this acknowledgment from you is a big deal for us, so thank you! Feel free to reach out to us at any time if you have any feedback or suggestions for us :) Thanks!
Museums & Institutions, 2-10 Employees
Used the Software for: 1+ year
Connecteam Hits the Mark
Comments: The Connecteam always reached out promptly--within minutes--to help resolve my issues. Even if the issue wasn't resolved, the still kept in touch to let me know what was going on.
Pros:
It allowed me to process payroll quickly and accurately, reducing payroll processing from a 6 to 8-hour tedious (and dreaded) operation, to less than an hour, even during peak season.
Cons:
Processing payroll for a bimonthly period was not easy, and we never quite worked all the bugs out with that. In the end, it was easier to switch over to biweekly pay periods to eliminate the problems with calculating overtime across calendar weeks.
Connecteam Response
2 months ago
Thank you so much, Tom! It's great to hear you're able to save so much time on your payroll process, and that you find Connecteam to be simple and easy to use :) A few months back, we've added multiple new overtime options to accommodate our customers' most common use cases. If you think there's room for improvement, can you please contact me personally at [email protected] so we can work on that with you? Thanks again for writing this 10/10 review of Connecteam!
Michael
Director in UK
Verified LinkedIn User
Facilities Services, 51-200 Employees
Used the Software for: 6-12 months
Alternatives Considered:
User-friendly software with many features, but needs improvements around scheduling & time clock
Comments: We have been using the software for about 8 month now. Some problems have been resolved. A huge improvement was around open shifts. That feature was basically unworkable until a few months ago. However, no improvement in core functionality of job scheduling and time clock since then.
Pros:
We mainly use software for job scheduling and time clock. Pros: It is easy to create a job and a shift Easy to add an employee Job scheduling views are good Training module (courses) has been useful
Cons:
The more employees and jobs you add, the slower it gets for admin users The jobs schedule opens slow on mobile phones The app users a lot of RAM memory on desktops If you have many shifts in the schedule, the app may start freezing The company often focuses on getting some minor features rather than improving their core elements, such as Job Schedule and Time Clock Not easy to go through Time Clock entries as the hours in Job Schedule are not shown. They claim that Time Clock and Job Schedule are synced, but sync only works for mobile users to clock in and out. There is no sync for admin users, who are checking the entries! Chat feature is undeveloped. It is easy to send information to staff, but it is not possible for field staff to have 1 clear communication channel. The job schedule shows names of the person, who created a job, so field staff have multiple conversation about various jobs, rather than have 1 point of contact. If the person who created the job is away, there is no way to see the message. So software creates a communication nightmare for admin and for field staff as well.
Connecteam Response
last month
Thanks for the feedback, Michael. First, it sounds like you're experiencing some technical issues. Things should not load slow or freeze. The best we can suggest is to contact us so we can investigate your issues and have them resolved. As for the schedule and time clock sync, there might be a misunderstanding or unfulfilled expectations here, and we'd like to clarify: the sync doesn't mean that any scheduled shift will automatically create a time entry in the timesheets. The schedule lets users know what they need to do, when and from where, but they must clock in and out for those entries to show in their timesheets. As for the chat - what's missing for you that you feel it's undeveloped? As for employees seeing who created a shift - that's 100% to your control as an admin. Simply remove this option from the scheduling settings menu. Would like to connect with us so we can see what can be done to assist you? Please email me personally at [email protected] :)
Sports, 2-10 Employees
Used the Software for: 6-12 months
Alternatives Considered:
Great software would recommend
Comments: I'm generally happy with it - the customer service is great.
Pros:
The employee scheduling is so easy to use, it's a really intuitive design and you can implement it and get employees on boarded so quick with it
Cons:
I dislike that I can't book 1-2-1 sessions for employees - a live timetable I can send front end to customers so they can book my employees out per session. Would be a great add. It's also not cheap price wise.
Connecteam Response
2 months ago
Thank you so much for your review, Harry! It's great to know that you find Connecteam to be simple to use both for you and for your employees and that you're happy with our customer service :) Although Connecteam is an employee management tool, we already talk internally about adding capabilities for the business' customers to book their meetings directly in the schedule, so that's definitely something to look forward to in the future :) If you have any more feedback for us or would like to suggest an improvement, please reach out to us at [email protected] at any time :) Thanks again!