What Is monday.com?
monday.com is a cloud-based Work OS, where teams create workflow apps in minutes to run their processes, projects, and everyday work.
Teams shape workflows and projects, code-free, with an adaptive platform that automates manual work and connects teams in a digital workspace.
The platforms features include: customizable workflow templates, time tracking, automations, data dashboards, and integrations with popular tools.
More than 100,000 companies around the world rely on monday.com.
Who Uses monday.com?
A multitude of teams, big, small, and cross-functional, in a variety of industries worldwide. Its intuitive interface and customization capabilities makes it suitable for any project and business.
Where can monday.com be deployed?
Cloud-based
On-premise
---
About the vendor
monday.com
Located in Tel Aviv, Israel
Founded in 2014
monday.com support
Phone Support
24/7 (Live rep)
Chat
monday.com pricing
Starting Price:
$8.00/month
Yes, has free trial
Yes, has free version
monday.com has a free version and offers a free trial. monday.com paid version starts at $8.00/month.
Pricing plans
get a free trial
About the vendor
monday.com
Located in Tel Aviv, Israel
Founded in 2014
monday.com support
Phone Support
24/7 (Live rep)
Chat
monday.com videos and images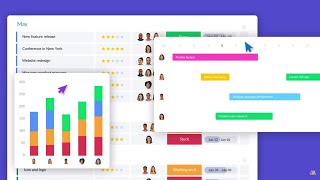 Features of monday.com
360 Degree Feedback Software
API
Access Controls/Permissions
Activity Dashboard
Activity Planning
Activity Tracking
Advertising Management
Agent Management
Agile Methodologies
Alerts/Notifications
Annotations
Applicant Tracking Software
Application Management
Approval Process Control
Approval Workflow
Archiving & Retention
Artwork Management
Asset Categorization
Asset Library
Asset Lifecycle Management
Asset Sharing
Assignment Management
Attendance Management
Attendee Management
Audience Targeting
Automated Scheduling
Automatic Time Capture
Backlog Management
Backorder Management
Bar Chart
Barcode/Ticket Scanning
Batch Processing
Bid Management
Billing & Invoicing
Brainstorming
Brand Guidelines
Browsing History
Budget Management
Budget Tracking
Budgeting/Forecasting
Bug/Issue Capture
Business Process Automation
CRM Software
Calendar Management
Calendar Sync
Calendar/Reminder System
Campaign Analytics
Campaign Management Software
Campaign Planning
Campaign Tracking
Candidate Profiles
Candidate Tracking
Capacity Management
Capacity Planning Software
Case Management Software
Cataloging/Categorization
Change Management Software
Change Order Management
Channel Management Software
Chat/Messaging
Client Management
Client Portal
Collaboration Tools
Color Codes/Icons
Commenting/Notes
Commission Management
Communication Management
Compensation Management Software
Compliance Management
Compliance Tracking
Configurable Workflow
Contact Database
Contact Management Software
Content Library
Content Management System (CMS) Software
Contract/License Management
Contractor Database
Contractor Management Software
Cost Tracking
Cost-to-Completion Tracking
Create Subtasks
Cross Channel Attribution
Customer Database
Customer Segmentation
Customizable Branding
Customizable Dashboard
Customizable Fields
Customizable Forms
Customizable Reports
Customizable Templates
Dashboard Software
Data Connectors
Data Import/Export
Data Visualization Software
Dependency Tracking
Deployment Management
Design Management
Diagramming
Digital Asset Management Software
Discussions/Forums
Display Ad Management
Document Management Software
Document Review
Document Storage
Drag & Drop
Electronic Forms
Email Management Software
Email Marketing Software
Email-to-Task Conversion
Employee Database
Employee Directory
Employee Management
Employee Onboarding
Employee Photos
Employee Profiles
Employee Scheduling Software
Engagement Tracking
Equipment Management
Equipment Tracking
Estimating
Event Management Software
Event Scheduling
Event Triggered Actions
Exhibit/Vendor Management
Expense Tracking
Feedback Management
File Management
File Sharing Software
File Storage
Financial Management Software
Fixed Asset Management Software
For AEC Industry
For IT Project Management
For Nonprofits
For PPC Campaigns
For Real Estate Agencies
Forecasting
Forms Automation Software
Forms Creation & Design
Forms Management
Front Desk Management
Full Text Search
Functions/Calculations
Gantt/Timeline View
Goal Management
Goal Setting/Tracking
Guest Access
Guest Experience Management
HR Management
Historical Reporting
Housekeeping Management
IT Asset Management Software
IT Asset Tracking
Idea Management Software
Ideation
Import Tasks
Innovation Management
Inspection Management
Insurance Management
Integrated Business Operations
Integrations Management
Interaction Tracking
Inventory Management Software
Inventory Optimization Software
Inventory Tracking
Issue Auditing
Issue Management
Issue Tracking Software
Item Management
Iteration Management
Job Scheduling
KPI Monitoring
Kanban Board
Knowledge Base Management
Knowledge Management Software
Landing Pages/Web Forms
Lead Capture Software
Lead Management Software
Lead Qualification
Lease Management Software
Lifecycle Management
Listing Management
Maintenance Management Software
Maintenance Scheduling
Marketing Automation Software
Marketing Calendar
Material Requirements Planning
Media Library
Media Planning
Meeting Management
Meeting Notes
Messaging
Metadata Management
Milestone Tracking
Mobile Access
Mobile App
Mobile Time Tracking
Multi-Account Management
Multi-Campaign
Multi-Channel Campaigns
Multi-Channel Communication
Multi-Channel Data Collection
Multi-Device Support
Multi-Language
Multi-Location
Multi-Touch Attribution
No-Code
Notes Management
Onboarding Software
Online Booking
Online Time Clock
Online Time Tracking Software
Order Entry Software
Order Fulfillment Software
Order Management Software
Order Tracking
Org Chart Creation
Orientation Workflow Management
Overtime Calculation
Parts Management
Payroll Management
Percent-Complete Tracking
Performance Management
Performance Metrics
Performance Review Management
Permit Management
Personalization and Behavioral Targeting Software
Polls/Voting
Portfolio Management
Post Scheduling
Predictive Maintenance
Presentation Tools
Preventive Maintenance Software
Prioritization
Process Modeling & Designing
Process/Workflow Automation
Product Data Management Software
Product Identification
Product Lifecycle Management Software
Product Roadmapping
Progress Tracking
Project Management Software
Project Planning Software
Project Planning/Scheduling
Project Scheduling
Project Time Tracking
Project Tracking Software
Promotions Management
Property Database
Publishing/Sharing
Purchase Order Management
Qualification Tracking
Quality Control
Quality Management Software
Quotes/Estimates
RFI & Submittals
ROI Tracking
Rate Management
Real Time Data
Real Time Editing
Real Time Notifications
Real Time Synchronization
Real Time Updates
Recruitment Management
Recurring Orders
Recurring Tasks
Registration Management
Release Management
Release Planning
Reminders
Remote Access/Control
Remote Support Software
Rental Property Management Software
Reporting & Statistics
Reporting/Analytics
Reporting/Project Tracking
Requirements Management Software
Reservations Management
Resource Management Software
Resource Scheduling
Returns Management
Risk Management Software
Roadmapping
Role-Based Permissions
Rules-Based Workflow
SEO Management
Safety Management Software
Sales Orders
Sales Pipeline Management
Sales Tax Management
Scenario Planning
Scheduling Software
Scorecards
Screen Sharing Software
Search/Filter
Segmentation
Self Service Portal
Shift Swapping
Shipping Management
Single Page View
Single Sign On Software
Skills Tracking
Social Marketing
Social Media Integration
Social Promotion
Spend Management Software
Sprint Planning
Staff Calendar
Stakeholder Defined Attributes
Status Tracking
Strategic Planning Software
Subcontractor Management
Succession Planning Software
Supplier Management
Supply Chain Management Software
Surveys & Feedback
Tagging
Task Editing/Updating
Task Management Software
Task Progress Tracking
Task Scheduling
Task Tagging
Task/Project Tracking
Template Management
Templates
Territory Management
Testing/QA Management
Text Editing
Third Party Integrations
Ticket Management
Time & Attendance
Time & Expense Tracking
Time Tracking Software
Timesheet Management
To-Do List
Traceability
Training Management
Transaction Management
User Management
Utilization Reporting
Vacancy Management
Vacation/Leave Tracking
Vendor Management Software
Version Control
Video Chat
Video Conferencing Software
Video Support
Visual Modeling
Visual Workflow Management
Visualization
Volunteer Management Software
Warranty Tracking
Web-based Deployment
Website Management
What-if Analysis
Widgets
Workflow Configuration
Workflow Management Software
Popa
CEO in Romania
Verified LinkedIn User
Marketing & Advertising, 2–10 Employees
Used the Software for: Free Trial
Reviewer Source
Organize your work processes with monday.com
Pros:
Intuitive and visually appealing interface for easy task and project management.Customizable boards and workflows to adapt to specific team needs.Extensive integration options with popular tools and platforms.
Cons:
Pricing plans may be relatively higher for larger teams or advanced features.Steeper learning curve for complex customization and automation.
Rejhon
Admin VA in Philippines
Real Estate, 2–10 Employees
Used the Software for: 1+ year
Reviewer Source
Reliable platform for project management that has an easy-to-use interface.
Comments: I've had an outstanding experience with this tool. One of the best things about it is the ability to assign tasks, keep track of progress, and identify any bottlenecks or delays that may arise.
Pros:
One of the most impressive features of monday.com is its user-friendly and easy-to-use interface, which allows for seamless team collaboration and streamlined project management.
Cons:
One aspect that some people may find challenging about the use of monday.com is its pricing structure, as it might be slightly higher than that of other comparable project management solutions. Additionally, some users may feel limited in their ability to customize the platform to suit their specific requirements.
Cesar
An Essential Tool for Data Analysis and Financial Management in Brazil
Accounting Software, 2–10 Employees
Used the Software for: Free Trial
Reviewer Source
Solid project management platform with intuitive interface, but high pricing and limited customizati
Comments: Recently, my team and I started using monday.com for project management in our company. Overall, we found the platform to be user-friendly and allowed us to effectively collaborate on the projects we were working on.What I liked most about monday.com was its intuitive and user-friendly interface, which made it easy to organize and assign tasks to team members. I also found it useful to be able to add different types of columns, such as dropdowns and checkboxes, to our boards to keep track of project details.However, I also found the pricing to be a bit high compared to other similar project management tools we had used in the past. Additionally, I found the customization capabilities to be limited in some aspects, making it difficult to tailor the platform to our specific needs in certain areas.Despite these aspects, we found monday.com to be a solid project management platform overall and helped us improve our efficiency in team collaboration and project completion
Pros:
The best thing about monday.com is its intuitive and user-friendly interface, which enables efficient team collaboration and effective project management.
Cons:
The worst thing about monday.com can be its pricing, which may be a bit high compared to other similar project management tools, and its limited customization capabilities to meet the specific needs of some users.
Jemima
Operations Manager in Australia
Management Consulting, 2–10 Employees
Used the Software for: 6-12 months
Reviewer Source
Monday.com is the best task management software and CRM I have used.
Comments: Monday.com has helped streamline and systemise the business. It is great that it has a mobile app a computer desktop app and is accessed online. When deciding to switch over from another product I asked customer service a question and within the same day I had a zoom call organised and was able to have a full meeting with a fantastic rep who explained all the features and ensured that all aspects would suit our business.
Pros:
Monday.com was very easy to migrate to from another CRM/task management system we were using before. The interface is very modern and easy to use. It makes working a real pleasure when everything is aesthetically pleasing. The time tracking, file management and customisable boards and tables are the best features for our business and keep everyone on task and track.
Cons:
There aren't many cons of Monday.com. I would say that the most difficult part is creating the automatic workflows. The only other con is that it is not the cheapest software out there, however , I do believe it is worth the money.
Justin
Digital Designer / Marketing Coordinator in Belize
Marketing & Advertising, 11–50 Employees
Used the Software for: 6-12 months
Reviewer Source
Digital Marketing and Social Media Coordination with Monday
Comments: Monday.com has become an invaluable asset in my digital marketing and social media coordination roles. Its user-friendly interface, customizable workflows, and collaboration features have significantly improved efficiency and communication within my team. Monday.com excels in project management, task tracking, and fostering seamless collaboration, making it an excellent tool for the hotel reservations industry and marketing planning.I highly recommend Monday.com to small to medium-sized marketing teams, social media coordinators, and digital marketers. Its flexibility and adaptability make it suitable for various industries and team sizes. Whether you're managing social media campaigns, content creation, or project coordination, Monday.com provides a centralized platform to enhance productivity, simplify workflows, and drive effective collaboration.While there may be a slight learning curve when first using the platform and the reporting features could benefit from expansion, the strengths of Monday.com as a versatile project management and collaboration tool far outweigh these limitations. Digital marketers and social media coordinators seeking an efficient and customizable platform to streamline workflows, boost team collaboration, and drive successful marketing campaigns will find Monday.com to be an invaluable asset.
Pros:
As a digital marketer and social media coordinator, I've had the opportunity to explore the features and services offered by Monday.com. Here's my review of the platform.Pros:Intuitive Interface: Monday.com boasts an intuitive and visually appealing interface that makes it easy to create and manage projects, tasks, and campaigns. The drag-and-drop functionality allows for effortless customization, ensuring that the platform aligns perfectly with my unique workflows.Customizable Workflows: Monday.com's flexibility shines through its customizable workflows. I can create boards and workflows tailored to specific projects, campaigns, or social media strategies. This level of customization empowers me to effectively track tasks, set deadlines, and collaborate seamlessly with team members, fostering efficient teamwork.Collaboration and Communication: Monday.com excels at facilitating collaboration among team members. With features like @mentions, comments, and file sharing, I can effortlessly communicate with my team, ensuring everyone is on the same page. The platform serves as a centralized hub for discussions, feedback, and document sharing, eliminating the need for scattered communication channels.
Cons:
Learning Curve: While Monday.com offers a user-friendly interface, there is still a learning curve involved in fully harnessing its capabilities. Initially, navigating the platform and customizing workflows may require some time and experimentation. However, the comprehensive support resources, including tutorials and webinars, provided by Monday.com, help mitigate this concern.Limited Reporting Features: Although Monday.com provides basic reporting features, it may fall short for those seeking in-depth analytics and advanced reporting capabilities. While it offers some data visualization options, the platform could benefit from additional reporting functionalities to provide comprehensive insights into project performance and team productivity.