UpKeep
What Is UpKeep?
UpKeep is an Asset Operations Management solution that helps businesses scale by giving every Maintenance and Reliability team the tools and information they need to run Operations efficiently and
Read more
effectively. UpKeep gives you a central command center to efficiently manage all your work orders, assets, and maintenance to deliver fast resolutions. UpKeep enables you to create one front door for all your technicians to go through for all services and support.
Read less
Who Uses UpKeep?
Manufacturing, Healthcare, Agriculture, Food Processing, Facilities Management, Fleet, Hotels, Oil & Gas, Construction, Distribution, Warehousing, Utilities, Packaging, Utilities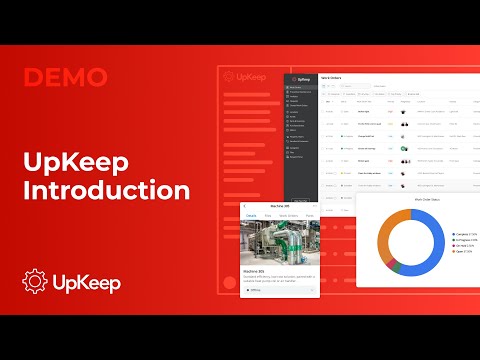 Not sure about UpKeep? Compare with a popular alternative
Not available in your country
Dirk
Director of Operations in US
Verified LinkedIn User
Real Estate, 11-50 Employees
Used the Software for: 1-5 months
Alternatives Considered:
Crucial Team Management
Comments: This creates the foundation for extensive maintenance records, historical tracking of problems, inventory, and more. It allows you to monitor your entire portfolio on a macro and micro level.
Pros:
Functionality. This cloud-based task manager functions at the level that works for you. Whether you're assigning basic tasks at a complex you own and manage or inspecting individually tagged pieces of hardware this is essential. The accountability from a required signature showing this task has been done is reassuring. Should there be a hang-up or question UpKeep's customer service is there to help you through it.
Cons:
The initial challenge is determining the depth at which to utilize this software most effectively. Whenever an organization chooses to go with a task manager, it is only effective as the degree to which your staff buys into it.
UpKeep Technologies Response
3 years ago
Hi Dirk, Thank you for taking the time to leave a review for UpKeep! We're so happy to hear that UpKeep is serving your team for tasks and projects big & small. The fact that the signature feature has provided a layer of accountability for your team is amazing! We're glad that the ability to historically track your work at a micro and macro level is helping you take the team to the next level. If you ever do need assistance in developing your maintenance program using UpKeep, feel free to reach out to your dedicated Customer Success Manager. Our team will follow up with you to connect your team to this dedicated resource. Thank you again for leaving us a great review. We really do take and appreciate your feedback seriously!
Rick
Facility Manager in US
Religious Institutions, 51-200 Employees
Used the Software for: Free Trial
Source: SoftwareAdvice
Alternatives Considered:
Perfect CMMS for my Needs
Comments: Using Upkeep has been an easy process, and it helps keep everything in one place. I also like the fact that our Operations Manager sees everything that I do, from creation of work orders, to updates, and completion of work orders.
Pros:
The free features are perfect for my use. My day is all about work orders, and being able to manage these work orders easily makes my day easier. We used to use paper work orders, which I had to fill out, file, and then track in another file. I would then need to create a separate report to send to the property team for review. I like having the ability to have everything in one place, without having to create so many separate reports.
Cons:
Nothing about this software is difficult to use. I do wish more was offered in the free version, such as reporting. I was able to use it during the free trial, but now am using the free version, in which reporting is only available in paid versions. I understand that this is how the company makes money, and I will be making the switch to a paid version when it is approved in our new budget. One thing that bugs me and hope gets fixed, is during the work order creation. I have over 120 locations and sub-locations. When I create a work order and choose the location, you should be able to begin typing the location in the box and it should self-populate the box. Right now, only the main locations will self-populate, not the sub-locations. I only have three main locations, and all the rest are sub-locations, so I have to scroll to search for the exact location I need. It's nothing major, but just an annoyance, and I hope this will be fixed soon so that any location will self-populate the box when you begin typing it.
Federico
CEO in Brazil
Verified LinkedIn User
Banking, 2-10 Employees
Used the Software for: 1-5 months
Alternatives Considered:
Great tool to Manage your Assets
Comments: Our overall experience using UpKeep is very good because this solution has provided accountability and transparency in the use of our assets (owned and rented)
Pros:
This is a great solution to manage the assets, we were having issues controlling the location and distribution of our rented laptops and electronic equipment provided to consultants, after implementing the solution we were able to locate, manage and renew our equipment without effort. We also use it to track work orders because their reporting capabilities work very good with out ERP.
Cons:
The main con would be its price, $45 per user is a little high for many small businesses budget. Since this is an important tool the training in using it is a little hard but necessary. In addition we believe the permissions management needs a little more work.
syed
Tech enginner in India
Food Production, 501-1,000 Employees
Used the Software for: 6-12 months
Up keep review
Pros:
The up keep tools used daily by me because it give me best experience in meeting schedule and give permission to the other people help me keep track of data and it has all the feature where some of the other other popular apps don't have it give the best UI and tools use daily
Cons:
There nothing to say about the app it even give the mobile access to everyone that's the best part
William
Sr. Manager of Maintenance in US
Tobacco, 201-500 Employees
Used the Software for: 1+ year
Source: SoftwareAdvice
UPkeep, Easy and Powerful
Comments: Overall it has been a great addition to the maintenance toolbox
Pros:
The ease of use and training of new users. The use with Ipads has made record keeping much more secure and simple.
Cons:
The difficulty with using the app on anything but Apple projects and Goggle Chrome on a PC. This has created some hurdles to overcome for us.