What Is JIRA Service Management?
Jira Service Management is an ITSM solution that unlocks high-velocity IT, dev, operations, and business teams. Empowered teams can deliver great service experiences, without the complexity of traditional ITSM, and coordinate efforts for even more impact through Jira's open collaborative platform. Streamlined workflows, automation rules, queues, SLAs, and a self-service portal all empower IT, dev, operations, and business teams to deliver exceptional service management at scale with no silos.
Who Uses JIRA Service Management?
High-velocity teams looking to optimize their ITSM practices eliminate silos between IT, operations, development, and business teams, resolve requests and incidents fast, and push changes with ease.
Where can JIRA Service Management be deployed?
Cloud-based
On-premise
---
About the vendor
Atlassian
Located in San Francisco, US
Founded in 2013
JIRA Service Management support
JIRA Service Management pricing
Starting Price:
$60.00/month
Yes, has free trial
Yes, has free version
JIRA Service Management has a free version and offers a free trial. JIRA Service Management paid version starts at $60.00/month.
Pricing plans
get a free trial
About the vendor
Atlassian
Located in San Francisco, US
Founded in 2013
JIRA Service Management support
JIRA Service Management videos and images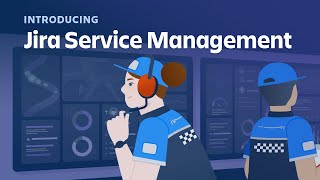 Features of JIRA Service Management
Access Controls/Permissions
Activity Tracking
Alerts/Escalation
Alerts/Notifications
Asset Lifecycle Management
Asset Tracking Software
Assignment Management
Audit Management
Audit Trail
Automated Routing
Backlog Management
Backup and Recovery
Barcoding/RFID
Bug/Issue Capture
Capacity Management
Change Management Software
Collaboration Tools
Commenting/Notes
Compliance Management
Compliance Tracking
Configuration Management
Contract Drafting
Contract/License Management
Cost Tracking
Customer Complaint Tracking
Customer Support Software
Customizable Branding
Customizable Fields
Customizable Reports
Customizable Templates
Dashboard Software
Document Management Software
Document Storage
Email Management Software
Feedback Management
For IT Project Management
Full Text Search
Help Desk Management
IT Asset Management Software
IT Reporting
Incident Management Software
Inventory Management Software
Issue Auditing
Issue Management
Issue Tracking Software
Knowledge Base Management
Knowledge Management Software
License Management Software
Location Tracking
Maintenance Management Software
Maintenance Scheduling
Mobile Access
Multi-Channel Communication
Multi-Language
Network Monitoring Software
Patch Management Software
Performance Metrics
Prioritization
Problem Management
Project Tracking Software
Queue Management
Real Time Analytics
Real Time Monitoring
Real Time Reporting
Real-Time Chat
Release Management
Remote Monitoring & Management
Reporting & Statistics
Reporting/Analytics
Routing
Search/Filter
Self Service Portal
Service Catalog
Service Level Agreement (SLA) Management
Status Tracking
Supplier Management
Support Ticket Management
Task Management Software
Text Editing
Third Party Integrations
Ticket Management
Time & Expense Tracking
Widgets
Workflow Configuration
Workflow Management Software
JIRA Service Management Alternatives
Reviews of JIRA Service Management
Denise
Marketing Specialist in US
Verified LinkedIn User
Marketing & Advertising, 201-500 Employees
Used the Software for: 2+ years
Excellent service and project management tool
Comments: For the past five years, I've been using Jira, and during that time I've noticed a big improvement just about every time. It has been easy for us to keep track of the work that other teams have completed by logging it and adding service level agreements. You can use it to delegate tasks within your team, track progress on common goals, and share updates with your colleagues in real time or behind closed doors. Because of this, it is an incredible instrument.
Pros:
The default settings for Jira Service Management allow you to maximize its potential right away, with nothing in the way of setup. It is possible to personalize it with a wide variety of settings so that it functions just how one would like it to.
Cons:
Because our SSO implementation needs it, in order for a user to sign into the customer portal, they will first need to sign into the parent Jira site.
Stefanos
Customer Service Manager in Greece
Retail, 10,000+ Employees
Used the Software for: 2+ years
A Powerful Tool for Streamlining Service Management
Comments: JIRA Service Management is an incredibly powerful tool for service management. It offers a multitude of features, customization options, and automation capabilities to ensure that user needs are met. Though the cost can be prohibitive for some organizations, the benefits of streamlining and tracking service management processes make it an ideal choice for many businesses.
Pros:
JIRA Service Management is an incredibly powerful and intuitive tool for streamlining service management processes. It offers an extensive variety of features and customization options to ensure that user needs are met. The user interface is modern and easy to navigate, and the workflow automation and reporting capabilities make it easy to track progress and ensure that tasks are completed on time.
Cons:
Though JIRA Service Management is incredibly powerful, it can be difficult to learn and navigate for users who are unfamiliar with it. Additionally, the cost of the software and the services can be prohibitive for some organizations.
Verified Reviewer
Product manager: tools&automations in Germany
Verified LinkedIn User
E-Learning, 51-200 Employees
Used the Software for: 2+ years
Well, everyone knows Jira — I just decided to reflect here
Comments: I hate Jira and think the only reason everyone uses it is that they're just used to suffer.Here's an article about it:[SENSITIVE CONTENT]
Pros:
After latest update the visuals are quite pleasant.You can really construct complex filters if you know what you're looking for.Task IDs unfurl into links.Permissions are very granular (although complex and you won't understand how to use them).
Cons:
Expensive.No obvious features or you have to pay extra: time tracking, dark mode, CHECKBOXES.
Jordan
Software Developer in Paraguay
Verified LinkedIn User
Outsourcing/Offshoring, 1,001-5,000 Employees
Used the Software for: 6-12 months
A great tool that brings visibility, productivity and collaboration to the team
Comments: You can take so much value from Jira is used correctly and if the team is well aware on how to use it. We use it on our daily standups and it helps a lot see what other team members are doing and their progress. You can easily spot who has more buffer and who needs a hand. The history feature is also a big plus to see what was changed in the description of the cards. I see this tool is a perfect fit for big companies.
Pros:
Estimating the team's velocity can be pretty accurate when the users fill in their Story Points and the time to completion. Cards also provide a lot of information, team members can collaborate in the comments section and the ability to create sub-tasks is a big plus.
Cons:
Jira can become overwhelming for newcomers, specially if there are no explicit policies on how to use it. Also, when marking tasks as Done, it feels the completion time fields are a bit redundant.
Craig
DevOps Engineer in UK
Pharmaceuticals, 501-1,000 Employees
Used the Software for: 2+ years
Jira Service Management Make Life Easy, But At A Cost
Comments: Jira has made everything easy and integrates with almost everything.
Pros:
JSM really doe make things very easy to do from ticket management to full blow products with customisable screens and input. It's worth the money but can get expensive when the whole company decides they want it.
Cons:
Really only the price is the con here, it's expensive but worth it. They offer fixed subscriptions which save money but cap users or pay as you go which costs more, but users can be added and removed ad-hoc.