What Is Cin7?
Cin7 is a highly configurable inventory management and order management solution with built-in EDI and integrations to all the popular eCommerce platforms, marketplaces, and 3PLs. It's best-in-class for all combinations of B2B and D2C sales channels, warehouses, shipping, and fulfillment. Cin7 provides exceptional automations, workflows, reports, and analysis to enable brands, retailers, and wholesalers to operate efficiently as they scale and efficiently match demand to supply.
Who Uses Cin7?
Brands, wholesalers, retailers, distribution and light-manufacturers who need automation across everything to run smoothly, operate at scale, and easily match supply to demand.
Where can Cin7 be deployed?
Cloud, SaaS, Web-based, Mac (Desktop), Windows (Desktop), Android (Mobile), iPhone (Mobile), iPad (Mobile)
About the vendor
Cin7
Located in Auckland, New Zealand
Founded in 2011
Phone Support
24/7 (Live rep)
Chat
About the vendor
Cin7
Located in Auckland, New Zealand
Founded in 2011
Phone Support
24/7 (Live rep)
Chat
Cin7 videos and images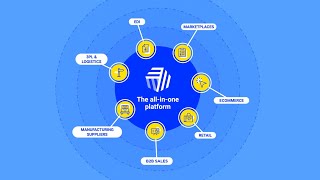 Compare Cin7 with similar products
Features of Cin7
3PL Management
API
AS2 Capability
Accounting Integration
Activity Dashboard
Alerts/Notifications
Archiving & Retention
Backorder Management
Barcode / Ticket Scanning
Barcoding/RFID
Billing & Invoicing
CRM Software
Cataloging/Categorization
Channel Management Software
Check-in/Check-out
Contact Database
Cost Tracking
Credit Card Processing
Customer Accounts
Customization
Data Import/Export
Data Security
Data Transformation
Database Support
Demand Forecasting
Discount Management
Electronic Payments
Email Marketing Software
Exceptions Management
For Retail
Forecasting
Import/Export Management
Integrated Business Operations
Inventory Auditing
Inventory Control Software
Inventory Management Software
Inventory Optimization Software
Inventory Tracking
Invoice Management
Item Management
Kitting
Marketplace Integration
Mobile Access
Multi-Channel Management
Multi-Currency
Multi-Location
Multiple Format Support
Order Entry Software
Order Fulfillment Software
Order Management Software
Order Tracking
Payment Processing Software
Point of Sale (POS)
Procurement Management
Product Identification
Promotions Management
Purchase Order Management
Purchasing & Receiving
Quality Management Software
Receiving/Putaway Management
Recurring Orders
Reorder Management
Reporting & Statistics
Reporting/Analytics
Retail Inventory Management Software
Returns Management
SEO Management
Sales & Operations Planning
Sales Forecasting Software
Sales Reports
Search/Filter
Serial Number Tracking
Shipping Labels
Shipping Management
Shopping Cart Software
Supplier Management
Supply Chain Management Software
Third Party Integrations
Warehouse Management Software
Website Management
David J.
Verified LinkedIn User
Used the Software for: 6-12 months
Source: GetApp
Great Cloud based Software - Easy to use and lots of features
Comments: We were a loyal system based inventory software user for almost 3 years (Inflow), everything with our previous software (Inflow) was good. As we have grown, we wanted multiple users and we looked at other options and decided we have to upgrade to a cloud based software. I personally did not want to go on the path of server, VPN etc.. We were very nearly about to sign in for another cloud based system and at the last minute we realised that it is not a special software for fashion industry.. We wanted a software that can cope with Size, Colour, Fabric, Style and Fit variations.. Thank God the other software people actually recommended Cin7 which is a Fashion Industry special software. We are so glad we made the move.. It makes our business day to day operation a breeze and our sales agents in multiple locations (Some offshore as well) entering orders directly into the system.. This cut down or data entry time dramatically.. also we are now able to see or "Out of stock items" by size.. Also the Web portal B2B is a God Send... Our customers love this feature.. I also have to say that the customer service experience I had is double 2 x 5 STAR... On Boarder Jeff made the whole operation so smooth that I never felt I was all alone in this journey... This is genuinely a good product backed by good people.. I recommend this to any business who are looking to upgrade from system based software to cloud based programme.. Thank you guys.. we are still a long way to go with implementing this software in our business, but I am confident that we will get through this..
Pros:
Software specially designed for Fashion Industry.. Multiple Size, Style, Fit, Fabric etc.. No problem... Many advanced features like B2B webportal, Xero Integration, Email Integration etc at no extra cost. On-Board support is worth $$$$ of dollars.. They do this so well.. Thank you Jeff... Pivot table reports - We were used to excel reports.. But this Pivot table stuff is out of this world..
Cons:
At times Crashes during log-ins.. I assume a bug... It is understandable considering cloud based system.. Not a major, but it will be great if they can rectify this soon. Automatic email reports.. for example a weekly email to our customers on stock or sales report etc would be a great feature. Simplified data entry short cuts (like Control + D - for entering same data for all lines) would be a great feature to add. Rather than Xero or QuickBooks, a simplified inbuilt payment system in Cin7 will be beneficial for small businesses who don't want to use accounting packages. Single user low cost (under $ 100 per month) version would benefit some small operators..
Cin7 Response
6 years ago
Hi David, thank you for the overall 5 star review! It's great to hear you think the product is awesome and the staff at Cin7 have been helpful. Thank you for the great feedback especially about Jeff your on-boarder. Thank you for the honest feedback we're always looking to improve for our customers and this has been passed onto support. We look forward to the continued support and value you as a customer.
Sean S.
Owner & IT Manager in New Zealand
Verified LinkedIn User
Food & Beverages, 2-10 Employees
Used the Software for: 6-12 months
Alternatives Considered:
Extremely powerful inventory and order processing and logistic package
Comments: While challenging to learn and deploy, it's unique feature set and capabilities mean they don't have any one direct competitor and you'd have to piece together multiple platform and cloud services to get the same level of features and functionality.
Pros:
Cin7 has allowed us to integrate and resolve most of our order processing, logistics, inventory and accounting functions into one platform. The API integration into Xero is critical for our business. The reporting capabilities are very powerful and can be used to resolve a number of sales, inventory and regulatory reporting requirements. There really isn't any product on the market that rolls all these features into one package.
Cons:
The price is very expensive and the learning curve is quite steep. The CRM functions are pretty light and need fleshing out. Of most concern were the surprisingly large number of bugs and errors in the reports. Support has been responsive and fixed most issues we have discovered in a timely fashion, but it has been surprising how many bugs we have identified and had to report. This left us feeling like we were paying to be a beta tester. As time goes on and the product matures, this should become less of an issue and I don't consider it a deal breaker, but Cin7 could really improve in this area.
Cin7 Response
3 years ago
Hi Sean, Thank you for your review. We are glad to hear that you found value in our software system and support team. We will share your feedback with the product team, as we are always looking for improvements.
Verified Reviewer
Director in Australia
Verified LinkedIn User
Design, 2-10 Employees
Used the Software for: 1-5 months
Alternatives Considered:
Great Product but could be imporved with more user testing
Comments: Service with onboarding has been great. Questions have been aswered in a prompt manner. Everyone we have spoken to has been very nice and determined to provide an aswer to questions.
Pros:
It's early days for us. Cin7 seems like a powerful tool that we look forward to using to it's full potential. We are loving the degree of customisation. Reporting is a step up from other systems. Smart buyer tool is great.
Cons:
There are some features that seem quite unintuitive. A great feature is often let down by poor UX and UI. Hopefully things will improve. No mobile app.
Scott P.
Head of Development and Integrations in UK
Luxury Goods & Jewelry, 51-200 Employees
Used the Software for: 1-5 months
Source: SoftwareAdvice
Alternatives Considered:
Be very careful as the sales team are misleading
Comments: Absolutely terrible. Stay well away from this company. It's the worst company I have dealt with in 10 years of ecom. They very blatantly mis-sold their product just to get their sale. We would not have went any further with them if they had told the truth in the first place and now they have wasted our time and money.
Pros:
There isn't much. There were issues with everything really.
Cons:
The fact we were lied to by the sales team. We were told syncing between Shopify sites was 1 minute. Then while going through the onboarding process we found out it can take up to 2 hours. We now need to scrap all the work we have done with the onboarding and find a replacement. The support during the onboarding was also terrible. They would take days to respond then try and put pressure on us to get it. They just wanted the money and us out of the way.
Skye M.
General Manager in Australia
Retail, 2-10 Employees
Used the Software for: 1-5 months
Excellent onboarding service & thorough inventory system
Comments: While a challenging step up from our previous inventory system, the Cin7 team were very helpful & attentive throughout the onboarding process and guiding us through familiarising ourselves with all its capabilities. The Cin7 Academy is a thorough resource and our dedicated specialist gave us confidence in the product with his quick & regular communication during the weeks of set up.
Pros:
Allows us to integrate with our B2C Shopify store, B2B online store and 3PL order fulfilment, as well as managing our stock imports from external suppliers both domestically and globally.
Cons:
We'd love more ability to tailor the look of our B2B store, however functionally it still meets all our needs