Who Uses Pipedrive?
Sales teams looking for a simple, yet powerful sales tool to get them organized.
What Is Pipedrive?
Pipedrive is a sales-focused customer relationship management tool that teams of all sizes love using. With 95,000+ paying customers spanning across 179 countries, sales teams are drawn in by our CRMs simple yet powerful design that prioritizes usability above all else. When using Pipedrive, nothing falls through the cracks, allowing your team to spend less time filing and more time selling with CRM that is both agile and powerful.
Pipedrive Details
https://www.pipedrive.com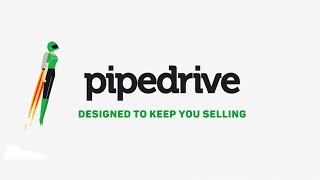 Play
Pipedrive does not have a free version but does offer a free trial. Pipedrive paid version starts at $12.50/month.
---
Pricing Details
A simple CRM starting at $12.50 per user per month subscription. It's easy to add or remove team members at any time.
Pipedrive deployment and support
Support
Email/Help Desk
FAQs/Forum
Knowledge Base Software
Phone Support
24/7 (Live rep)
Chat
Deployment
Cloud, SaaS, Web-based
Mac (Desktop)
Windows (Desktop)
Linux (Desktop)
Android (Mobile)
iPhone (Mobile)
iPad (Mobile)
Training Software
Webinars
Documentation
Videos
---
Average score
Customer Service Software
4.4
---
Review software
Share your experiences with other software buyers.
Write a Review!
Christopher J.
CEO
Marketing & Advertising, 2-10 Employees
Used the Software for: 1+ year
Overall Rating

Ease of Use

Features & Functionality

Customer Support Software

Value for Money

Likelihood to Recommend
Reviewer Source

Reviewed on 08/09/2020
"The Best CRM In The Game"
Comments: Pipedrive is by far my favorite CRM after extensively reviewing over a dozen of them. I recommend it to all of my clients because of how versatile it is with third party integrations. I also recommend it to any beginners since you do have the option of getting WAY more features than anyone else offers at the top-tier package; all while being one of the least expensive.
Pros: I like the simplistic UI, the customizability, and the fact that Pipedrive has the widest range of integrations in it's class. I would go as far as to call it MODULAR, meaning you can add pretty much any feature you'd like via 3rd party integrations. With this is mind, you'll never be limited to some of the things Pipedrive doesn't do as well. Alternatively, if you're looking for everything under one roof, Pipedrive does this better as a whole than any of the competition.
Cons: I'm not a huge fan of how some of the very simple features are blocked off from the lowest price plan. Since I prefer the 'modular' setup, this is the only plan that makes sense to me, but I do miss some of the features like important fields that display certain fields first based on where the deal or person / organization is in the pipeline. I used to run the top tier package from Pipedrive, and I wasn't really impressed with the automation features. They're a bit limited and the triggers don't always work.
Reviewer Source

Reviewed on 08/09/2020
Shayne H.
Director of Sales
Internet, 11-50 Employees
Used the Software for: 1+ year
Overall Rating

Ease of Use

Features & Functionality

Customer Support Software

Value for Money

Likelihood to Recommend
Reviewer Source

Reviewed on 06/10/2020
"PipeDrive is the best "Beginner" CRM Platform out there!"
Comments: PipeDrive is functional CRM platform and a viable/cheaper alternative to SalesForce and other counterparts. It is easy to use and has a wonderful graphical interface. If you are a budding enterprise, PipeDrive is the software for you. If you're a full-fledged corporate, I'd personally recommend you evaluate other options because although PipeDrive is amazing, it still sports limited functionality that won't do a large company any justice.
Pros: 1) You can send emails directly from the platform! This gives you an edge on your communication efforts and helps you trigger alerts, get notifications and manage a large volume of clients - often simultaneously. 2) The interface is very easy to use and there is no steep learning curve necessary for one to get accustomed to the platform. This also encompasses of how easy it is to navigate through the platform. 3) PipeDrive can seamlessly integrate with many third party service providers. We have had no problems integrating PipeDrive with MailChimp, Slack, Gmail, LinkedIn, etc 4) PipeDrive will never let your leads go stale. Leads that need following up with will be highlighted based on the criteria designed by the user. Intuitive icons beside each lead can give you a detailed picture as to what stage of your business process the lead is on and what required action needs to be taken. 5) PipeDrive makes it super easy to enter leads and move them through various stages of your business process. 6) Inter-departmental communication is a breeze. I've noticed a strong synergy between our sales and marketing department after implementing PipeDrive in our organization. It's very convenient to identify high potential leads and PipeDrive eliminates the need of trying to give the next department a detailed back-story about leads during a hand-off. This saves a LOT of time. 7) Dashboards can help you evaluate and track project progress at a glance.
Cons: 1) We are unable to send one email to multiple contacts. Right now, we have to send them out one after the other. Sincerely wish they look into this. 2) Usually hands when processing large volumes of data. 3) Not suitable for large firms and organizations. I deem this to be an entry/Beginner CRM platform. 4) There aren't any built-in marketing and contract management tools.
Reviewer Source

Reviewed on 06/10/2020
Michael W.
CEO
Broadcast Media, 11-50 Employees
Used the Software for: 2+ years
Overall Rating

Ease of Use