What Is Easygenerator?
Easygenerator is an award-winning e-learning authoring solution that simplifies and accelerates your organization's learning development. We are proud to provide our software to over 50,000 users in more than 150 countries. Our cloud-based tool empowers subject matter experts to share their knowledge in the form of interactive e-learning content. With a user-friendly interface and personalized support services, we make it easy for anyone to start creating engaging online courses and resources.
Who Uses Easygenerator?
Easygenerator is used by corporations, SMB's, scale-ups, startups, educational institutions, non-profits, and governments. Easygenerator has 50.000 users in over 150 countries.
Where can Easygenerator be deployed?
Cloud, SaaS, Web-based
About the vendor
Easygenerator
Located in Rotterdam, Netherlands
Founded in 2013
Phone Support
24/7 (Live rep)
Chat
Easygenerator pricing
Starting Price:
$99.00/month
Yes, has free trial
Yes, has free version
Easygenerator has a free version and offers a free trial. Easygenerator paid version starts at $99.00/month.
Pricing plans
get a free trial
About the vendor
Easygenerator
Located in Rotterdam, Netherlands
Founded in 2013
Phone Support
24/7 (Live rep)
Chat
Easygenerator videos and images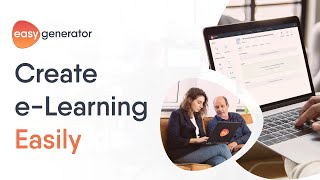 Features of Easygenerator
Activity Dashboard
Assessment Management
Assignment Management
Asynchronous Learning
Audio/Video Recording
Blended Learning
Certification & Licensing
Certification Management
Content Library
Content Management System (CMS) Software
Course Authoring Software
Course Management
Course Publishing
Customizable Branding
Customizable Questions
Customizable Templates
Data Import/Export
Interactive Content
Interactive Learning
Learning Management
Learning Paths/Tracks
Media Import
Mobile Access
Mobile Learning Software
Multi-Language
Multimedia Support
Online Video Platform Software
PowerPoint Conversion
Progress Reports
Progress Tracking
Quizzes
Reporting & Statistics
Reporting/Analytics
SCORM Compliance
Social Learning
Storyboarding
Synchronous Learning
Template Management
Tests/Assessments
User Management
Easygenerator Alternatives
Keith W.
Co-Author in US
Verified LinkedIn User
Higher Education Software, 2-10 Employees
Used the Software for: 2+ years
A Game Changer!
Comments: We are a small textbook publishing company that utilizes Easygenerator as the platform for our online textbooks. After researching software solutions, we chose Easygenerator and have never looked back. The flexibility of the software as well as the ease of use has been a perfect fit for our company. Thank you!
Pros:
We are a small company that was looking for a solution that we could manage in-house without having to hire new technical staff or utilize a third party. Easygenerator allows us to manage the software with staff that has limited technical skills, thus the "easy" part of the name really lives up to its billing. The development team is always updating the program and very receptive to our ideas for new features. New features are added monthly and the support staff is incredibly personable and talented. We are extremely satisfied with Easygenerator!
Cons:
We have not learned how to integrate Easygenerator into various learning management systems and it seems that it might be an overwhelming process for our limited skills set.
Neil W.
Head of Learning & Development in UK
Leisure, Travel & Tourism, 201-500 Employees
Used the Software for: 1-5 months
An easy to use authoring tool
Pros:
An easy to use system for an author of e-learning content, using a drag and drop functionality. It was easy to implement across our team and the ability to brand the learning pages is great. The customer support team are quick to respond and are very helpful.
Cons:
If the system was able to have an option to create an assessment only section which is the part that is only scored. The ability to download a report of ALL completed courses rather than the need to run a report for every single course.
Michelle C.
Learning Partner in UK
Consumer Goods, 10,000+ Employees
Used the Software for: 1-5 months
Easygenerator Review
Comments: Customer support from [SENSITIVE CONTENT HIDDEN] was 5star. She is calm, attentive and hardworking with a great can do attitude. thank you [SENSITIVE CONTENT HIDDEN] for all your help too.
Pros:
Easy to use
Cons:
The most frustrating element of the software is that you need to 'log out' in order for the system to recognise and count as 'complete'. Tis should be corrected and be applicable at the results page. This is causing a lot of frustration internally at Unilever where people are completing the course but as they have not clicked out at the end it did not count as completed only started. This is far from ideal and I would look at alternative solutions for learning platforms for further courses.
Rebecca S.
Learning & Development Coordinator in Netherlands
Real Estate, 201-500 Employees
Used the Software for: 1+ year
Create high quality learning content quickly and efficiently!
Comments: We have been able to take a more holistic approach to our training delivery. A benefit of Easy Generator to meet this goal is the ability to incorporate documents, videos, images, content, and assessment all in a single course. As we include our SMEs in content development, Easy Generator also solves the problem that our experts, while knowledgeable, are not content creators by nature. Easy Generator makes it an intuitive process and allows for collaboration between users and oversight from our L&D team to ensure that all content is of high quality prior to delivery to our learners.
Pros:
The best part about Easy Generator is how fast it can be learned to immediately start creating content from the first day. Everything is user friendly and it was easy to keep our training content on brand. In addition to the ease of use, the customer service we have experienced so far has been incredible. They understand our needs and have worked with us to maximize our plan while staying within our budget.
Cons:
It can be tedious to find and upload external stock images and other content to include in our training courses, where similar programs may offer a content library internally. Also the layout options are limited. These are minor inconveniences however and do not detract from the overall positive experience that we have had so far! The only true dislike we have is the inability to require learners to view video content in order to move on. Currently, learners can skip the video entirely which limits our ability to track overall effectiveness.
Sawyer P.
CX Optimization Senior Associate in US
Retail, 51-200 Employees
Used the Software for: 6-12 months
Extremely easy to use , interactive, engaging, and fun.
Pros:
The name is no lie. It's an incredibly efficient and easy to use tool as both a content builder and as a lesson taker. It's a million times more interactive and engaging than any other solution we've used before with all the different types of question and content options. Since we moved to EasyGenerator almost a year ago, our agents are more engaged and excited to get into lessons than ever. Learning has become fun as well as necessary. Love the integration with Branchtrack. Scenarios are a great way to really speak to the nuances of language and how to speak to a customer, especially when trying to gauge their emotion throughout a conversation. The support is also exceptional, especially considering they are in a completely different time zone across the world from us. Super friendly, helpful anytime we have a question, and receptive to feedback. When we knew we had to improve our current learning ethos and software, we set forth on an exhaustive search to find a better solution. We set up trials with various eLearning tools and created lessons that we presented to our agents before asking for feedback on all of them at the end. Our agents overwhelmingly voted for EasyGenerator, our content building team overwhelmingly voted for it, and with such a great price and value, EasyGenerator was a no brainer from the agent level to C-level.
Cons:
We certainly have things on our wishlist, like more study-based questions, such as flashcard functionality, simple games for even more fun learning options, and more robust reporting, especially the ability to track learners across various courses. But none of these things are truly cons as it stands. Especially since the EasyGenerator team is so receptive to feedback and genuinely interested in new ideas to make their solution even better.