Fishbowl
What Is Fishbowl?
Elevate your inventory management with real-time data while reducing costs and maximizing profitability. Fishbowl's complete manufacturing and inventory management solution automates and simplifies
Read more
the manufacturing process. Fishbowl's inventory management includes advanced work orders, material requirements planning (MRP), bills of materials, barcode scanning, and can be easily deployed on-premise or hosted in the cloud.
Read less
Who Uses Fishbowl?
Fishbowl is the #1 Manufacturing and Warehouse Management Software that seamlessly integrates with QuickBooks and offers secure & cost-effective inventory management to manufacturers and so much more.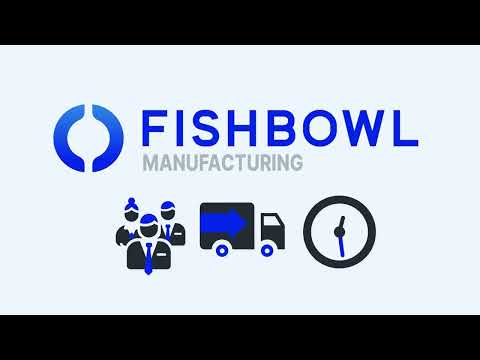 Not sure about Fishbowl? Compare with a popular alternative
Not available in your country
Ed
Web Designer/Developer/Small Business Tech Support in US
Verified LinkedIn User
Retail, 11-50 Employees
Used the Software for: 2+ years
Powerful, Affordable Inventory and Order Management Software
Comments: Stated simply, Fishbowl is the best in it's class, period! Easy to use, incredibly effective and affordable Inventory and Order Management Software.
Pros:
Fishbowl offers and unparalleled ease of use. Our whole team was trained and up and running in hours. You simply won't find another software package with the range of features and reliability at this price range. It easily bests other software packages costing 3 times what Fishbowl costs!
Cons:
Their call back support could be a little faster, but it's still likely better than most software companies.
Michelle
Custom Orders Dept. in US
Apparel & Fashion, 11-50 Employees
Used the Software for: 2+ years
A Great All Around Product For Inventory
Comments: Fishbowl has helped us save money by being able to control everything from inside and not having to hire multiple 3rd parties to make connections. Fishbowl continues to add and upgrade the software to what consumers ask for.
Pros:
Fishbowl software is easy to use. I like that you always have step by step instructions and some videos to help guide you. If you don't find what you are looking for, all it takes is an email, and support helps you as quickly as they can.
Cons:
The only negative issue I have while using Fishbowl software is with the reports. Even though they have multiple reports to choose from, I feel as some of them can be upgraded to include more than one product a t a time. Example, when searching for a product that was sold on a particular day, and you have more than one size of the same product, it would be nice to be able to select as many products as you want to look at versus one at a time.
Fishbowl Response
9 months ago
Thank you so much for this review, Michelle. We appreciate you taking the time to provide your feedback. We are happy to hear that your experience has been satisfactory and will take your suggestions into consideration while we continue to make improvements.
Eugene
VP Operations in US
Verified LinkedIn User
Retail, 11-50 Employees
Used the Software for: 2+ years
Source: GetApp
Technical Support has hit rock Bottom
Comments: I have been using and loving Fishbowl for the past 5 years. In the past 12 -18 months the technical support has plummeted. I believe the took on new ownership and since then they have made phone support useless. As I write this I have been on hold for over 45 minutes. They give you the option to leave your number but I have yet to receive a call back from them. Really sad to see what has happened to what was a great organization
Pros:
Software does the basics for small retail and manufacturing operations
Cons:
Report generation is rigid and difficult. We ended up extracting all the data we needed to an external tool
Verified Reviewer
Owner in US
Verified LinkedIn User
Furniture, Self Employed
Used the Software for: 2+ years
Source: GetApp
Don't buy Fishbowl
Comments: I paid a lot of money for this software for my small and growing business. Training was expensive and took many weeks. Integrations with Quickbooks and my Sales channels were buggy and resulted in hours of extra work to edit changed sales orders and sift through garbage data sent to QB. A few months ago I uncovered a bug with how data was sent to Quickbooks that totally screwed up my books. Two different support people logged on and watched my workflow, confirmed I did everything correctly, and verified it was a program bug. A ticket was created and then....crickets. Nothing. I followed up repeatedly for weeks. For a while I got assurances that the "best people" were working on it. Eventually no one would reply to my emails, not even my account rep. They completely abandoned me so I switched to Katana which has been awesome for my needs. I've never been treated so poorly by a software company EVER. Maybe they have chosen to abandon their smaller clients in favor of bigger ones.
Pros:
At first the customer support was great. You could call and a human would answer the phone and log into your screen and help you quickly. Those days are over apparently.
Cons:
Fishbowl support has gone in the toilet. The phone menu you get for support doesn't even have an option for just solving a workflow problem or explaining an unexpected error or problem. They have the call back feature, which can take hours, if they actually call back. They promise to look into problems and then don't.
Paul
General Manager in US
Transportation/Trucking/Railroad, 51-200 Employees
Used the Software for: 1+ year
Source: SoftwareAdvice
Not Bad Until Fishbowl Tied to Shippo
Comments: Not been good.... not great on support especially if you do not like what they did with their software..
Pros:
none, this product is too difficult to set up and get into operation
Cons:
This was not a bad program until the developers at fishbowl decide to eliminate UPS Ready from the daily operations of things and switch to Shippo without telling us.. now it is almost usless. Have to go to a third party shipper to ship my products and then go back and manually enter the information so that it can be billed.