What Is Reservo?
¿Buscas un software para administrar tu agenda?
Si tienes un Centro Médico o eres Médico independiente, si tienes un Salón de belleza, una Peluquería o una Estética y necesitas gestionar tus reservas, podemos ayudarte.
¿Qué te ofrece Reservo?
Te ayudaremos a gestionar tus reservas, ya sea de manera manual o automáticamente desde un módulo en tu página web.
Controla tus finanzas, tus ventas, inventarios POS, obtén reportes, herramientas de fidelización, giftcards, recordatorios y más.
Who Uses Reservo?
Centros médicos Médicos independientes Dentistas Psicólogos Centros de estética Peluquerías Salón de belleza Spa
Where can Reservo be deployed?
Cloud, SaaS, Web-based, Mac (Desktop), Windows (Desktop), Android (Mobile), iPhone (Mobile), iPad (Mobile)
About the vendor
Reservo
Phone Support
Chat
Countries available
Chile, Colombia, Ecuador, Mexico, Peru
About the vendor
Reservo
Phone Support
Chat
Countries available
Chile, Colombia, Ecuador, Mexico, Peru
Reservo videos and images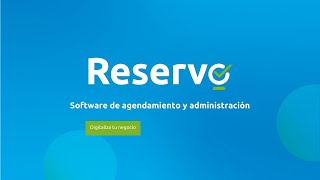 Compare Reservo with similar products
Features of Reservo
Appointment Management
Appointment Scheduling Software
Client Management
Confirmation/Reminders
Contact Database
Dental Practice Management
For Barbershops
Online Booking
Patient Records Management
Medical Devices, 2-10 Employees
Used the Software for: 6-12 months
Util y fácil de usar
Comments: La respuesta cuando necesito modificar es muy rápida, los tutoriales son super claros, no necesito estar pidiendo asistencia para que me hagan las modificaciones, las puedo hacer sola sin problemas.
Pros:
Que permite tener la administración completa del centro médico. Los reportes son fáciles de descargar, se puede personalizar, permite tener la información completa de los pacientes y hacer un correcto rastreo de la información.
Cons:
Las fichas personalizadas aun no podemos configurarlas bien, no nos funciona bien esa funcionalidad.
Reservo Response
3 weeks ago
Hola, Paula! Muchas gracias por tu review. En relación a las fichas personalizadas, podrías escribirnos por chat para darle seguimiento a tu caso (si es que aún no es resuelto). Personalmente, me encargaré de apoyarte. Debido a la privacidad de Capterra no puedo detectar tu centro. Así que te pido apoyo para contactarnos. Gracias
Jennifer
Directora Centro Pitanga in Chile
Medical Devices, 2-10 Employees
Used the Software for: 1+ year
Opinión Reservo
Comments: Estamos organizando muy bien los pacientes, las notificaciones aseguran que recuerden sus atenciones. Las ausencias son casi nulas. El sistema de configuración de fichas es excelente. Todas las profesionales se mantienen en contacto sobre la evoluciones de los pacientes.
Me gusta personalmente la función de revisar estadísticas.
Pros:
Fácil de utilizar y portátil (se puede usar en cualquier dispositivo), los profesionales rápidamente aprenden a utilizarlo. Yo como administradora he sido capaz de configurarlo de forma independiente sin necesitar recurrir constantemente a soporte. Debo destacar que la calidad de la atención al cliente, en término de tiempos de respuesta y acción es realmente SOBRESALIENTE. Estoy muy satisfecha.
Cons:
Me gustaría que los pacientes pudieran agendar en línea (agenda online) planes con la cantidad de sesiones correspondiente al servicio pagándolos solo una vez al agendar. Lo mismo sumado a la posibilidad de agendar prestaciones con más de un profesional. En mi centro trabajamos en equipo interdisciplinario y tenemos prestaciones con más de una especialidad. De momento no tenemos agenda en línea para todos los servicios dado que los pacientes no pueden agendar planes, eso nos supone un problema ya que todo debe hacerse manualmente. A veces las gestiones se atrasan dado que las solicitudes de horas deben pasar por dos departamentos hasta darles el ok a las profesionales para sus atenciones. Eso finalmente es más roce y enlentece los procesos. Las profesionales deben agendar sus atenciones multidisciplinaria ingresando al paciente cada una en su agenda y las notificaciones que les llegan a los paciente terminan siendo innumerables.
Bárbara
Directora in Chile
Education Management, 11-50 Employees
Used the Software for: 1-5 months
Excelente
Comments: Facilita la coordinacion de horas y evita el olvido por parte del cliente final lo que optimiza los procesos y evita pérdida de tiempo de losnprofrsionales. Nos ayuda en la gestión de finanzas, da claridad de pagos y deudas de manera ordenada y apoya con ello la gestión de cobranza. Facilita la autonomía de los profesionales en la administración de su agenda reduciendo tienpos de coordinación.
Pros:
Plataforma intuitiva y de fácil implementación. Aconpañamiento constante de parte de los ejecutivos, gran variedad de turoriales breves y sencillos que permiten solucionar dificultades de manera inmediata. Gran cantidad y gariedad de funcionalidades y posibilidad de perdonalización. Excelente adquisición.
Cons:
Hasta el momento solo extraño lanposibilidad de que el email de confirmación que llega al cliente final pueda indicar el tipo de servicio o tratamiento agendado y no solo el profesional. Todo lo demás es de nuestro agrado.
claudia
fonoaudiologa - directora in Chile
Medical Devices, 2-10 Employees
Used the Software for: 1-5 months
reservo
Pros:
facilidad de uso, buena respuestas de los usuarios al sistema de confirmación por correo electrónico y permite tener información sobre la asistencia de los usuarios.
Cons:
cuando falla el agendamiento automático. usuarios reportan no recibir el correo
Reservo Response
3 weeks ago
Hola Claudia, gracias por tu review! Lo apreciamos mucho. En relación a los correos que detectas que no se envíen. Favor de reportarlo de inmediato por chat para hacer un levantamiento del caso y resolverlo. Estaremos felices de corregirlo y brindarte un buen servicio. Si esto te sucede actualmente, favor de escribirnos por chat para investigar tu caso a detalle.
Gustavo
Educador Canino in Chile
Individual & Family Services, Self Employed
Used the Software for: 1-5 months
Un excelente sistema
Pros:
He probado otros sistemas y reservo tiene todo lo que necesito para la gestión de los clientes, me permite personalizar fichas, enviar recordatorios por mail o whatsapp, programar planes, no he encontrado una funcionalidad que necesite que no esté incorporada en Reservo.
Cons:
Lo único que faltaría por agregar sería poder personalizar el mensaje que saldrá por whatsapp al momento de contactar a los clientes.