Tool2match
What Is Tool2match?
TOOL2MATCH is a smart recruitment tool. It helps you save a lot of time, optimize the candidate journey, build a secure database and collect valuable statistics, fully GDPR proof.
Read less
Who Uses Tool2match?
TOOL2MATCH is intended for SME companies that would like to organize their recruitment more efficiently and effectively.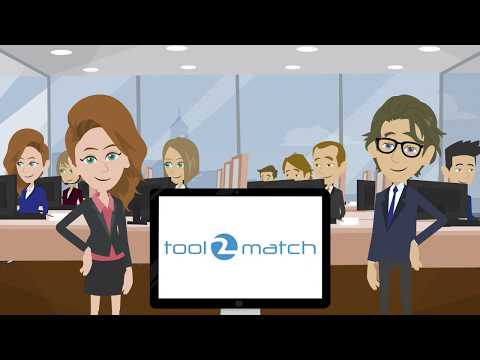 Not sure about Tool2match? Compare with a popular alternative
Not available in your country
Ton
Partner in Netherlands
Verified LinkedIn User
Financial Services Software, 201-500 Employees
Used the Software for: 2+ years
prima software!
Pros:
bespaart tijd, alle reacties op een plek, automatische emails, delen van profielen, etc.
Cons:
je hebt even tijd nodig om er mee om te leren gaan
TOOL2MATCH Response
8 months ago
Beste Ton, Hartelijk dank voor je review. We staan altijd klaar voor support, dus mochten er nog zaken zijn waar je hulp bij nodig hebt, laat het ons weten. Ook plannen we vaak online gebruikerstrainingen in. In elke nieuwsbrief geven we de eerstvolgende datums door. Enorm bedankt voor het delen van je ervaring. Met hartelijke groet, Saskia
Marcel
Recruiter in Netherlands
Information Technology & Services, 11-50 Employees
Used the Software for: 6-12 months
Tool2Match ideaal recruitmentsysteem
Comments: Vanaf de eerste kennismaking en uitleg over het gebruik ben ik verrast over het gemak en de veelzijdigheid van tool2match. In mijn ogen krijg je heel veel voor weinig. Bovendien helpen ze met implementeren en wordt je goed wegwijs gemaakt. Terwijl het systeem zelf echt heel gebruiksvriendelijk is.
De implemtatie ging goed en vlot, de gebruikers krijgen nog instructie en ook via webinars wordt je op de hoogte gehouden over gebruik en intwikkelingen in het verld. Als gezegd doet het alles en meer dan je van een ATS mag verwachten. Het maakt mijn werk zoveel makkelijker terwijl het voldoet aan de AVG. Het proces is makkelijk en per vacature in te richten. Delen is makkelijk en ook kan je met kandidaten communiceren via de App. Het is echt een heel fijne toepassing.
Pros:
Het is makkelijk en snel te implementeren, te integreren met nagenoeg elke website, het is super makkelijk te gebruiken, je kan meten wat het effect is van ingezette werving, stakeholders zijn makkelijk te betrekken, het is meteen google for jobs ready én vacatures worden direct op Indeed doorgeplaatst.
Cons:
Je kan het niet gebruiken als multiposter, het is niet geintegreerd met HR systemen.
TOOL2MATCH Response
8 months ago
Beste Marcel, Hartelijk dank voor jouw review! Fijn te lezen dat je zo tevreden bent. We kunnen vaak wel koppelen, echter dit is maatwerk. Mochten er nog specifieke behoeftes zijn, laat het ons gerust weten via [email protected] Verder nemen we je tip qua multiposten zeker mee binnen onze ontwikkelingen! Nogmaals dank voor het delen van je ervaring. Met hartelijke groet, Saskia
Giovanni
Recruiter in Netherlands
Human Resources, 11-50 Employees
Used the Software for: 2+ years
Tool2Match is essentieel voor je recruitmentproces
Comments: Tool2Match draagt bij aan een AVGproof werving en selectieproces. Het zorgt voor rust en structuur in de kandidatenstroom. Als werkgever weet je precies hoeveel kandidaten je op je vacatures hebt en via welke wervingskanalen deze afkomstig zijn.
Pros:
Vacatures makkelijk plaatsen en volgen. Overzicht in werving en selectie. Directe koppeling met Indeed en Google for Jobs. Makkelijke integratie met je eigen werken-bij site. Weten hoeveel mensen je je vacature zien en wat de conversie aan sollicitanten is. Meten=Weten.
Cons:
Gedurende het gebruik en inzet van Tool2Match valt het gebruiksgemak op.
TOOL2MATCH Response
last month
Beste Giovanni, bedankt voor je review. Fijn om te lezen dat je tevreden bent over onze recruitmentsoftware. Meten is inderdaad weten, en we blijven hierin altijd ontwikkelen. Met goede rapportages leer je je proces steeds beter begrijpen, zodat je goed kan bijsturen en optimaliseren. Bij vragen kan je altijd bij mij terecht. Met vriendelijke groet, Jolien.
Robin
Recruiter in Netherlands
Civic & Social Organization, 51-200 Employees
Used the Software for: 6-12 months
eenvoud die werkt
Pros:
gebruiksgemak, overzicht, delen met hiringteam
Cons:
geen directie integratie met LinkedIn, geen internet search mogelijkheden
TOOL2MATCH Response
8 months ago
Beste Robin, Hartelijk dank voor jouw review! Fijn te lezen dat je zo tevreden bent. We nemen je tips mee binnen de ontwikkelingen van TOOL2MATCH. Nogmaals dank voor het delen van je ervaring. Met hartelijke groet, Saskia
Erik Jan
Partner Primatch Zwolle in Netherlands
Staffing & Recruiting, Self Employed
Used the Software for: 2+ years
Het gemak van Tool2Match
Pros:
Vacatureplaatsing, sollicitantenbeheer, volledig AVG-proof, datagedreven werven
Cons:
zoekfunctie in de database spreekt niet heel erg voor zich