15 years helping Emirati businesses
choose better software
What Is Trello?
From sales and marketing to HR and operations, teams can design and customize Trello to fit their unique needs and work styles. And with over 100+ integrations with other key tools like Google Drive, Slack, Jira and more, Trello is a living, breathing project hub of cross-team collaboration no matter where your work needs to happen. Trello brings joy to teamwork by making it transparent and easily shareable across boards and teams.
Who Uses Trello?
Trello is for teams of all sizes, for the creators and doers, and for those who take dreams to done. Trusted by millions, Trello powers teams all around the world.
Where can Trello be deployed?
Cloud-based
On-premise
---
About the vendor
Atlassian
Located in San Francisco, US
Founded in 2013
Trello pricing
Starting Price:
$6.00/month
Yes, has free trial
Yes, has free version
Trello has a free version and offers a free trial. Trello paid version starts at $6.00/month.
Pricing plans
get a free trial
About the vendor
Atlassian
Located in San Francisco, US
Founded in 2013
Trello videos and images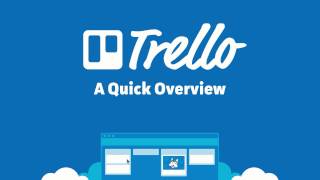 Features of Trello
@mentions
API
Access Controls/Permissions
Activity Dashboard
Activity Tracking
Activity/News Feed
Alerts/Notifications
Assignment Management
Automatic Backup
Backlog Management
Billing & Invoicing
Brainstorming
Budget Management
Business Process Automation
CRM Software
Calendar Management
Campaign Management Software
Campaign Planning
Channel Management Software
Client Portal
Collaboration Tools
Commenting/Notes
Communication Management
Configurable Workflow
Content Management System (CMS) Software
Cost-to-Completion Tracking
Create Subtasks
Customizable Dashboard
Customizable Templates
Dashboard Software
Data Import/Export
Deadline Management
Discussions/Forums
Document Storage
Drag & Drop
Electronic Forms
Email Management Software
Email-to-Task Conversion
Employee Management
File Management
File Sharing Software
File Transfer
Financial Management Software
For Creative Agencies
For Small Businesses
Forms Automation Software
Gantt/Timeline View
Goal Management
Goal Setting/Tracking
Graphical Workflow Editor
Guest Access
Idea Management Software
Import Tasks
Innovation Management
Inventory Management Software
KPI Monitoring
Kanban Board
Knowledge Management Software
Live Chat Software
Marketing Automation Software
Marketing Calendar
Media Planning
Meeting Management
Messaging
Milestone Tracking
Mobile Access
Multi-Campaign
Multiple Projects
No-Code
Notes Management
Order Management Software
Order Tracking
Orientation Workflow Management
Percent-Complete Tracking
Performance Metrics
Polls/Voting
Portfolio Management
Prioritization
Process Modeling & Designing
Product Data Management Software
Product Lifecycle Management Software
Product Roadmapping
Productivity Tools
Progress Tracking
Project Management Software
Project Planning Software
Project Planning/Scheduling
Project Tracking Software
Real Time Data
Real Time Notifications
Real Time Updates
Recurring Tasks
Remote Access/Control
Remote Support Software
Reporting & Statistics
Reporting/Analytics
Reporting/Project Tracking
Requirements Management Software
Resource Management Software
Resource Request
Resource Scheduling
Risk Management Software
Roadmapping
Rules-Based Workflow
SSL Security
Search/Filter
Secure Data Storage
Skills Tracking
Sprint Planning
Status Tracking
Strategic Planning Software
Surveys & Feedback
Tagging
Task Editing/Updating
Task Management Software
Task Progress Tracking
Task Scheduling
Task Tagging
Template Management
Third Party Integrations
Time & Expense Tracking
Time Tracking Software
Training Management
Vendor Management Software
Visual Workflow Management
Visualization
Web-based Deployment
Workflow Configuration
Workflow Management Software
Benn
Senior Information Technology Business Analyst in US
Verified LinkedIn User
Arts & Crafts, 1,001–5,000 Employees
Used the Software for: 2+ years
Reviewer Source
Trello - Productivity tool
Comments: With trello I can organize all my tasks and projects through boards that are fully customizable, I can put any image in the background, I can divide the boards into 3 parts so that they reflect the tasks, what is in process and what is already done, With the cards I can prioritize the tasks that I have to do first. I like the mobile version, it's easy to use and I can drag and drop a task quickly.
Pros:
I started using Trello for personal things and then I started using it with my work team. I can say that it is a tool that helps a lot with productivity, to work collaboratively with my company's work team as it helps manage and manage projects. and organize the workfow, pending tasks and meet the objectives either by week or by month, I like that I can automatically log in with a Gmail account which makes it more practical.
Cons:
Although the interface is practical, it needs a better design and colors, it lacks predefined boards that help make the user experience more practical, the archiving or moving lists part is a little confusing for people who are using it for the first time, it lacks of an option to delete lists, which would make it more practical.
Marketing & Advertising, Self Employed
Used the Software for: 1+ year
Reviewer Source
Using Trello for a Digital Agency Start up
Comments: Very positive. Easy to use and integrate with other tools through powerups
Pros:
This is my Goto for planning projects with my customers. It is zero effort to show a customer how to use it and start collaborating. This in contrast to a tool like Jira is really good for a startup business like mine. I intend to upgrade to premium version but it has been great to get me started.
Cons:
Would have liked to be able to trial premium features before making decision. Maybe this is possible but cannot remember.
Alternatives Considered: Zoho Sprints
Reasons for Choosing Trello: Cost and easy of use
Switched From: Jira
Reasons for Switching to Trello: Just easier to use in the main and Jira is more expensive with it
Sim
General manager in Canada
Events Services, 2–10 Employees
Used the Software for: 2+ years
Reviewer Source
A good task management system, but not my first choice in the market
Pros:
Trello is very easy for everybody. The interface is well done.You can use many interesting basic features: check list, comment, notification, etc. You can custom your board with pictures.
Cons:
The notifications are not intuitive, I feel that Trello has not helped my organization to rech their deadlines. The management of the done tasks is not optimal. The dashboard needs improvement.
Danny
President and CEO in US
Verified LinkedIn User
Marketing & Advertising, 2–10 Employees
Used the Software for: 2+ years
Reviewer Source
Scalable and flexible project planning and task management software.
Comments: This is software that we use every single day. I also use Trello in a professional capacity. It is easy to get up and running, and easy to get clients onboarded with it as well.
Pros:
We love how flexible Trello is. We have separate boards for different projects and even for our internal team management and admin tasks like accounting and HR. There is no "right way" to set up Trello, which means you can mold it to your own needs.
Cons:
Over the years, they've included less and less in the free version, but if you're running a business, the pricing is fair and scalable to pay for it.
Alternatives Considered: Basecamp and ClickUp
Reasons for Choosing Trello: Asana seemed like it was more geared toward larger teams and just simply wasn't as intuitive to get in and set it up.
Reasons for Switching to Trello: Basecamp didn't have a freemium model. You get a free trial, then must pay to continue using. Trello lets you use the free version perpetually until you grow into paying for it. ClickUp seemed way to robust and monolithic for our needs. Trello was much simpler to get up and running.
Verified Reviewer
Verified LinkedIn User
Writing & Editing, Self Employed
Used the Software for: 2+ years
Reviewer Source
Team trello
Comments: I am able to organise personal and business lists, tasks and projects more easily. So far, so good with trello
Pros:
Trello boards helps me go paperless while managing a client workflow. Trello makes use of kanban system that makes it easy to create tasks for projects and breaks them down into smaller tasks
Cons:
The only disadvantage that I have seen with trello, it doesn't allow editing. So sometimes I use email if I need editing with my project plan